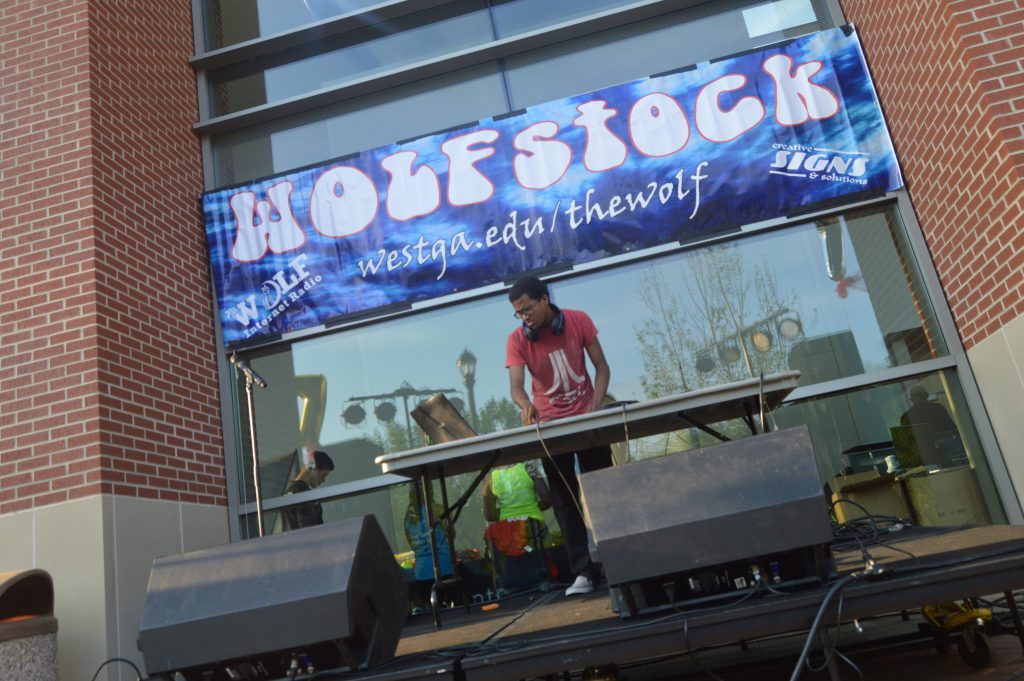 Thursday, April 15, The WOLF Internet radio hosted their annual one night music festival Wolfstock, a o. Wolfstock happens every April, and is a celebration of the launch of The WOLF which was April 21,2010. The first Wolfstock was April 2011 in Love Valley and marked the first birthday of The WOLF. This year's theme was Viva Las Wolf, Wolfstock lucky number seven to commemorate the station's seventh year in operation.  Wolfstock has featured bands that have been on America's Got Talent, The Voice, and have a band this year that has performed at the Dogwood Festival, Park Tavern, and with iHeart Media. This year the first performer Tony OG will be performing with Atlanta-rapper Da'Brat.
Viva Las Wolf featured the festival's largest student based talent group. The event gives local, unsigned, independent and other up and coming performers a chance to perform on a larger scale. "Booking bands is difficult," said Shawn Isaacs, general manager of The WOLF. "We don't have a large budget. Most of our bands are volunteer based." The WOLF determines their performers from music submissions on their website.  Although no monetary benefits are given to performers, the station offers a great return for artists. "We promise them lifetime airplay of their music on our station. We promise them exposure to college students, bigger exposure on a bigger stage," Isaacs continued. On average, 600 to 1,000 students show up to Wolfstock throughout the night. In addition to that, The WOLF gives performers free promotion on their social media, which they've recently been awarded best use of.
The WOLF has successfully hosted six Wolfstock festivals, and has overcome many obstacles. "There's a lot of challenges with planning an event this big," said Isaacs. "Before when we were in Love Valley all the time, which is where we like to be, it's just difficult with Spring weather. One year it was super cold and it rained, one year it was just cold." As of lately The WOLF has been doing a variance of moving into the ballroom and having an outdoor stage in front of the Campus Center. This gives the festival an indoor and outdoor feeling as well as other benefits. "It's allowed us to get more bands and more stages," said Isaacs.
Despite the challenges that The WOLF faces, hosting an event like Wolfstock has amazing benefits not only for the performers but for students as well.  "The most rewarding thing first and foremost is allowing the students that work at The WOLF and volunteer to experience this large scaled event," said Isaacs. "We've had students graduate and get jobs because they've done this event. One of our promotions directors got a job as an event coordinator at Melbourne Chamber of Commerce in Florida due to her extensive work on Wolfstock." Large radio corporations put on events such as Wolfstock, so this further prepares Mass Communication students for the real world.  "It gives them the experience that it's not all about being on a show or being on-air, it's about reaching the people," Isaacs continued. "Seeing everybody come in at the start of the event, the large lines, all the people enjoying themselves, laughing, having a good time and the music itself, that's the rewarding part."
To be involved with Wolfstock, the station asks that join The Wolf, and have a basic grasp of radio operations. "We want everyone to be a member of The Wolf," said Isaacs.  Instructions to become a member are listed on website TheWOLFUWG. Even if you do not work for the station you can sign up to be a WIT, which is a one semester training session. "We teach on-air, promotions, events and etc." If you're interested in performing at the next Wolfstock or joining The WOLF, check the basic info tab on the website.
Comments
comments