UWG Career Services is hosting a Business Etiquette Dinner tomorrow in the lower level of Z-6. This four-course dinner will be led by Dr. Angelyn Hayes, retired Assistant Vice President for Student Affairs at Clayton State University. Students will have the opportunity to practice dining etiquette and professional conversations with future employers.
"Business dining etiquette is one of many professional skills that give students an advantage in their career searches and their career paths," said Associate Director of Employer Relations, Vicki Hardin. "Just as Career Services works with students to have excellent resumes and effective interviewing skills, we offer this program to give students another set of tools to enhance their professional success."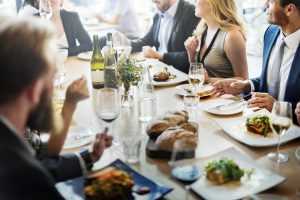 This event teaches students to attain another key factor when it comes to interviews. Gaining knowledge on how to maintain a dining interview setting will better prepare the career path process. It is important to recognize aspects outside of just resume building. The dinner will provide insight that they can further practice after attending.
"The focus of any business dining situation should be the conversation rather than figuring out what to eat or how to eat it," said Hardin.
The Etiquette Dinner teaches students how to understand the place setting, how to use various utensils in an appropriate way while eating, and how to place utensils when they are finished eating. Learning this can then help the conversation portion of the dinner. How to professionally talk to in this situation is more significant than deciding which fork or knife to use.
Dining interviews may be more common than people realize but learning the etiquette is important in more settings than just interviews. For example, students may have the chance to network with employers in a dining setting on campus. Many business activities can occur during a meal so becoming familiar with dining etiquette is useful.
This is a chance for students to become more educated on the dining approach and help build their professional development skills. The dinner costs $10 and students can pay at the Career Services Office.
Comments
comments