With only days remaining before the 2017 football season kicks off, the Wolves are working hard on the field in preparation. New football head coach, David Dean was able to take on this important role by creating a strong bond with his team right away. "It has been going as good as I could ever hope it to be," said Dean. "The players are high character guys and the coaching staff has helped make the transition as smooth as possible."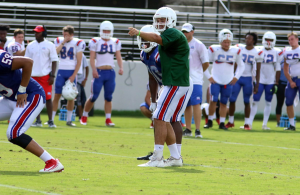 The Wolves have held two scrimmage games in University Stadium looking to improve their game come time to face Fort Valley State. "The team is practicing hard each day and they are getting a little tired of hitting each other," said Dean. "It will be good for us to get into game week in the days leading up to Fort Valley."
Coach Dean sees a strong team throughout weekly training and scrimmages. After the last scrimmage game, Dean has already noticed areas the team is improving in. Defense made a stand during the scrimmage by making yards tough to come by for the offense. There were big plays made on the other side of the ball as well with sophomore QB Willie Candler hooking up with sophomore WR John Hurst for a 49-yard touchdown. Junior RB Perry Seldon also made an explosive play breaking off for a 65-yard touchdown run. The team's hard work they have put in this preseason is proving they are game time ready.
Hosting their first game against the team from Perry, GA, the Wolves are anticipating this season opener with Fort Valley State. This will be the first ever matchup between the two teams so studying their game plan is crucial for the team's preparation."It is tough to say what stands out with us from them when studying their game given the amount of new players both teams have," said Dean.
With each team having their share of young new players, this could result in a competitive fight. Sam Gregg remains the offensive coordinator of the team keeping them familiar with last year's successful strategies so they can continue to capitalize on the play calling.
There's no doubt the UWG community is ready for football season to finally be underway. The energy surrounding campus is resonating to the players and coaches helping fuel their excitement for the Thursday night kick off. Coach Dean and his wolves feed off the fans eagerness and are bringing that energy with them wherever they go."The team chemistry is strong with this group," said Dean. "They seem to care about each other and practices are very high energy."
This family bond within the team makes Coach Dean highly confident in what the season has in store. This togetherness and spark has been a proven factor in the Wolves past success and Dean sees this as a huge advantage going forward. The season sets off 7:00 p.m. this Thursday at University Stadium.
Comments
comments