Mentors and mentees have long been a part of the American culture. From the Boys and Girls Club to YMCA programs, it is no doubt that we as a society want to help make life better for others.
Young Life at UWG gives a whole new meaning to helping out. Young Life is a student organization which trains college students to become equipped to go out and mentor students in surrounding high schools. While many other mentorship programs use a training guide, Young Life uses one specific guide as the basis for their organization: the Bible.
"The purpose of Young Life to me, is sharing Christ with kids, and creating a relationship with them so they can have a relationship with God," said Madeline Drummond, a sophomore at UWG, and a Young Life leader.
There was a lot of work that went into bringing a chapter of Young Life to West Georgia's campus, from getting registered as a student organization, to spreading the word about it. But after a few years of planning, the starting team made it happen.
"There were 13 committee members who had been working on starting Young Life about 4 years before it even started," said Drummond. "Then they hired our director in 2016 and he brought it to UWG in the fall of 2016."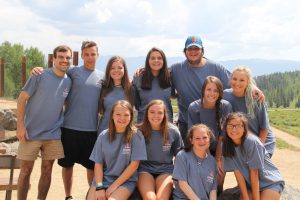 College Life is an extension of Young Life, where UWG students meet for training every week, in order to become Young Life leaders. From there, they have Young Life meetings, where leaders hang out with high school students and play games, followed by a Bible teaching.
"We trained to be leaders during the first semester," said Drummond. "Then we as UWG students, were placed at Carrollton High School to mentor kids in January."
It doesn't just stop there. Young Life leaders continue to interact with the students in these local high schools, not just on a weekly basis, but numerous times in a week.
"Really, we try to go around 12 hours a week," said Drummond. "That might be going in the morning and holding the doors for students as they go into the school or eating lunch with them, or showing up at their sports practice."
Young Life has become popular on many college campuses throughout the country, and although Young Life at UWG is gaining popularity, that isn't their driving force.
"We want to train the right leaders," said Drummond. "It doesn't really matter how many people we have, as long as they're the right people, and are committed to it."
Altogether, Young Life's purpose is clear.
"These kids may never have set foot in a church before, and church may honestly scare some kids because of past experiences with it," said Drummond. "Young Life creates a more fun environment, where we can show them that following Christ can be done in a fun way."
The organization has big plans for the future, all of which include reaching more high school students.
"We want to have more leaders, so that we can go into more schools in Carrollton," said Drummond. "Our goal in the Spring is to start at Central High School with a new group of leaders, and hopefully to start in Bremen in the fall."
Young Life at UWG is simply just another example of people reaching out and helping others with a Christian intent.
Comments
comments