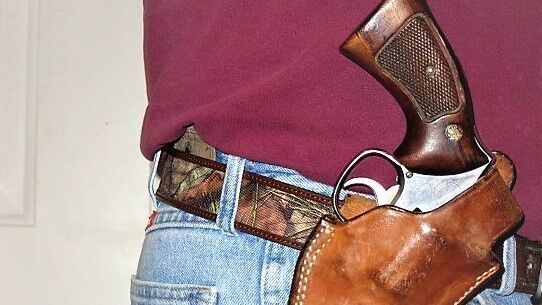 Georgia's campus carry bill is seeking a resurrection in this year's legislative session. Campus carry has been a controversial issue on college campuses around the state of Georgia.   
Beginning back in 2014 Georgia passed the Safe Carry Protection Act. This bill was nicknamed the 'guns everywhere bill' but it restricted carrying on school property and public universities. Last year House Bill 859 was introduced. House bill 859 would've expanded on the Safe Carry Protection Act. This bill was more commonly known as the campus carry bill. It would have allowed those over the age of 21 with a weapons license, to carry a concealed weapon on public universities and campuses. With the exception of fraternities, sororities, dormitories, and athletic events. The bill was brought forth into the 2016 legislative session and then put to an end by a veto.
House Bill 859 proved to be a controversial matter as those on both sides of the argument had loud opinions. The original bill was heavily sponsored by six representatives in the house and one senator. The bill went on to be passed by both the house and the senate. It was finally put to an end by a veto from Governor Nathan Deal. Deal vetoed the bill in May of last year, keeping the campus carry legislation out of the books for 2016. But it is back, and not going anywhere soon.
The 2017 legislative session began in early January. Even before the session began talks of a campus carry comeback had already hit the floor. Representative Rick Jasperse was a giant proponent and sponsor of bill 859 and he plans to help spearhead the new bill as well. Jasperse has also just been appointed as the new chairman for the House Higher Education Committee. Per representatives this new campus carry bill will resemble the old campus carry and will be filled in the house soon. House Speaker David Ralston has shared his opinion on the possibility of new legislation for campus carry. "The second amendment issue I think you'll hear from this session," Ralston said "I think it's important that we do all what we can to reasonably expand our protections under the second amendment," Ralston went on and said that "Under the constitution, it allows states to expand upon constitutional rights. This isn't just a campus carry issue but it's a protection of the second amendment issue."
The University System of Georgia and thousands of students have been a loud voice of opposition to any campus carry legislation. They believe that it could be a disruption to the campus and learning environment. One student on the University of West Georgia campus disagrees. "I am 100% for new campus carry legislation. I don't feel safe walking on campus and I should have a right to protect myself, but I also believe that it should be concealed," Senior Megan Flynn expressed.
The idea of allowing guns on campus will continue to be a controversial issue. A comeback to campus carry is in the works and will put Georgia back in the headlines.
Comments
comments