Campus tours and visits give schools the opportunity to not only show prospective students around campus, but to also share their story and make a positive first impression. The Office of Admissions at UWG asserts that bringing potential students to campus is one of the most powerful tools they have to enroll future students.
"We like to believe here that if we can get students on campus, then they are more likely to attend," said Evan Jaynes, Associate Director of Admissions, Campus Visits and Communications.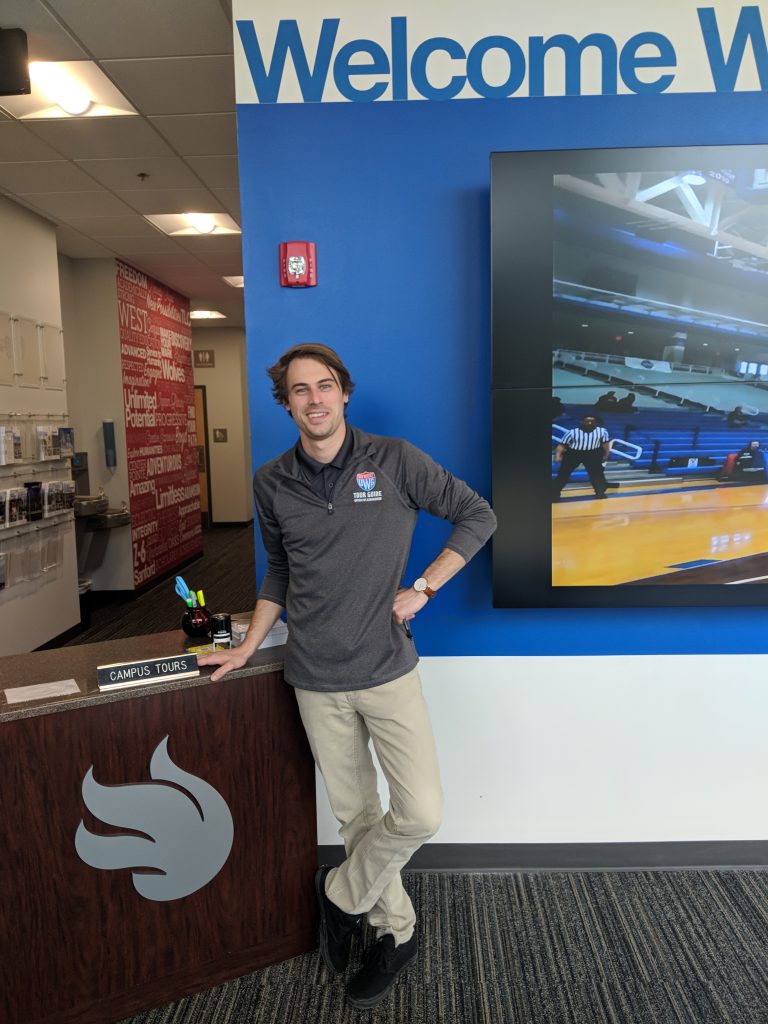 Statistics favor Jaynes' statement, as 55 percent of overall applicants to UWG eventually choose to enroll. However, 70 percent of applicants that attend an Admissions event, such as a Preview Day, choose to enroll. UWG's Office of Admissions is undergoing several changes to make future campus visits even more effective. Their building
(the
Murphy Building) is undergoing renovations to give a more modern feel and create a warmer atmosphere for visitors. They have also upgraded and retooled Preview Day to offer more access to previously overlooked academic areas, as well as including more about the City of Carrollton.
"One thing overall that we have done is create a much more immersive lobby experience for our tours," said Jaynes.
"We
have a six-screen
'digi-wall'
that has very engaging video content and student success stories to connect students with very easily realizable outcomes. Like,
'this
is a student who is close to my age achieving success in academics and in their career .'"
In addition to the digi-wall, the lobby also features a UWG history exhibit that is maintained by the Ingram Library. Further, an interactive touchscreen display is in the works to be added in the near future. It will allow students to navigate a digital campus map, watch videos and explore all the University has to offer on their own.
This year, Preview Day will feature a new theater track. Meaning, prospective students that are interested in theater will now have an entire day dedicated to their major. They will also get the chance to view a rehearsal for UWG's production of the Shakespearean play Macbeth.
The improved Preview Day experience will also share more of the spotlight with the city of Carrollton.
"We are doing a huge community partnership campaign," said Jaynes.
"The
thing that is missing from Preview Day is the city of Carrollton. Carrollton and the University of West Georgia have grown up hand in hand for over 100 years now. So, my thoughts were, why isn't Carrollton present
[at
Preview Day]? This year, we will have booths from Gallery Row, Carrollton Main Street, Barnes Store, radio stations and other restaurants and community organizations."
However, Preview Day is not becoming a business opportunity. These booths will not vend to prospective students, but instead give away free items. The Office of Admissions also has greater aspirations for the future, looking to showcase other impactful elements of the university and reach underserved communities.
"I hope we can do something to provide a complimentary meal on campus for these experiences, because we have an incredible dining operation here," said Jaynes.
"It
is just one other very impactful thing that I think visitors are wanting. We are also in the process of identifying and writing grant proposals for transportation funding to schools in underrepresented areas of the state that may not be able to travel to the UWG and take a tour."
Jaynes and the Office of Admissions are clear that impact they make on prospective students isn't just about making the University of West Georgia a front-runner in their list of desired schools to them, it's about inspiration.
"We have agency to UWG to enroll students and grow the university community," said Jaynes.
"But
we work so hard because our
'why'
is completely predicated on changing lives."
Comments
comments