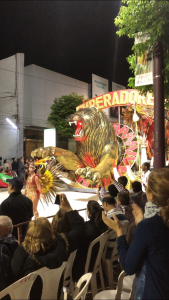 On Feb. 7, UWG student Francisco Stenger returned to his home country of Uruguay to experience his first "Carnival". "Carnival" is a festival that is held in many South American countries where the community celebrates the days before lent, and Stenger was there to witness everything that Uruguay's "Carnival" had to offer.
Stenger's journey to Uruguay required a connecting flight through Miami Fla., and once in Montevideo, Uruguay, Stenger still needed a 9 hour bus ride across the country to his family's house in Artigas. The long travels caused Stenger to suffer jet lag, but he did not let a lack of sleep get in his way of having a good time.
Artigas' "Carnival" began on Saturday Feb. 10, but the city started the festivities early with a costume contest on Feb. 9., which was a great event for Stenger to meet up with his old friends. On Feb. 10, at 11 p.m. Artigas' "Carnival" parade ran through the city of Montevideo. This "Carnival" parade was presented to the public by the four Samba schools of Uruguay through their collaboration within the parade.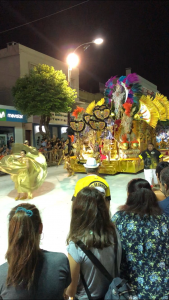 Samba schools such as Rampla, Imperio, Emperadores and Academicos created floats and performances for the parade, and are later judged accordingly to decide a winner. There was music playing from each float, women dancers wearing large feathered hats and relentless representation for each Samba school.
Stenger's family was chosen to represent the Samba school of Rampla because they represent the economically less fortunate. Rampla received their seventeenth "Carnival" victory in 2018, and Stenger was there to celebrate with his family. Stenger claimed the parade was a more family oriented event, but after the parade the partying began. There were concerts, paint parties, and dancing that occured in large grassy fields outside of Montevideo until early hours of the morning.
"The people of Uruguay have an entirely different time schedule compared to the people of the United States," stated Stenger. "Families in Uruguay brought their children to the city of Artigas at 11 p.m., stay until 3 a.m., and the young adults would party until 8 a.m."
Stenger was able to see the three-day experience for the first time in his home country with his friends and family, and it is something that he will never forget.
Comments
comments