Rock band Falling In Reverse brought their Roast of Ronnie Radke tour to the Masquerade on Nov. 2 for an evening of acoustic performances and friendly jokes aimed toward the band from their friend Willard.
The show started off with Willard coming out to read some of the weirder headlines from the local news, one of which was that a man shot an armadillo and the bullet bounced off the shell and hit his mother-in-law.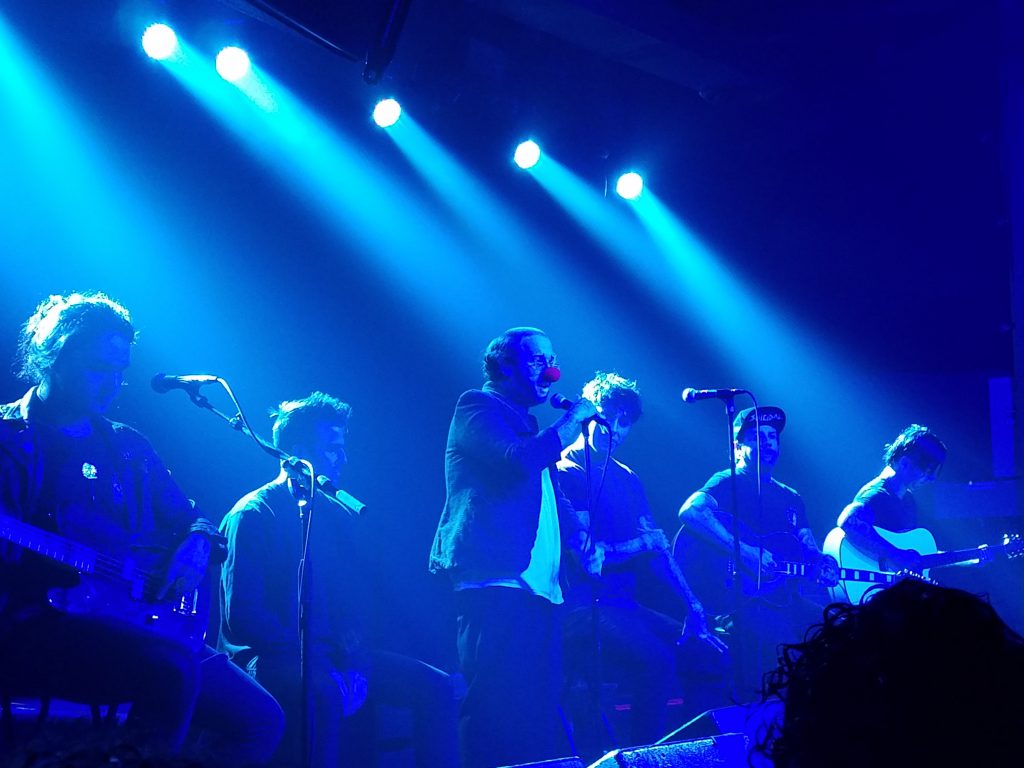 Once the band was introduced Willard started to roast them with jokes aimed their personalities, talents and history. A large portion of these jokes were directed to the lead singer Ronnie Radke and his criminal record.
In 2006 Ronnie got into a fight that resulted in two people getting shot and killed. He later plead guilty to battery and served jail time after violating his probation. In 2012 he was accused of hitting his then-girlfriend and he was also charged with assault after throwing three microphone stands into a crowd during one of his shows later in the same year. The jokes about his criminal record received some mixed reactions, perhaps because it was to be expected since Ronnie would be the easiest to make fun of.
The jokes that were directed to other band members seemed to be more original. One of the jokes that was directed to bassist Zakk Sandler compared him to their former bassist Max Green. Ronnie told everyone that Zakk was like Max but with less personality.
"Tragic
Magic" and
"Not
Good Enough For Truth In Cliché," seemed to transition seamlessly to an acoustic set while others like
"Losing
My Mind" and
"The
Drug In Me Is You" seemed to suffer a bit from the transition.
When it was first announced that the music would be performed acoustically many people were curious to see how that was going to work since the songs Falling In Reverse have written tend to be mostly hard rock. Most of the songs they played, like
"Community
Property" which Ronnie cut short because he was not sure how much of the song they were allowed to play. Throughout their performance, Willard would also come back out for a few quick roasts, even during the bass solo in
"Pick
Up The Phone" to poke fun at Zakk for playing a solo.
The band even performed a cover of Steel Panther's
The ending of the show however seemed to leave everyone confused. After the band got off stage Willard came out once again to tell a few of his original jokes. Once he told the first joke the crowd started to boo him and shouted for the band to come back out. After Willard silenced the crowd he told everyone that he bought the band enough time to get back to their bus and then left the stage.
While the whole night up to that point had been fun, the ending left everyone wanting more. Fans stood by the stage hoping that Ronnie would come back out. Everyone had been told that the night would include excerpts from Ronnie's upcoming book and a Q&A in addition to the songs and jokes, but these never happened. The audience stayed behind, confused, until the venue's staff removed the instruments from the stage and the main lights came back on.
"leave
them wanting more" and in this case they did.
It seemed wrong to end the show the way they did, especially since everyone clearly expected so much more from the night. Up until that point everyone had been really enjoying themselves. Entertainers always say