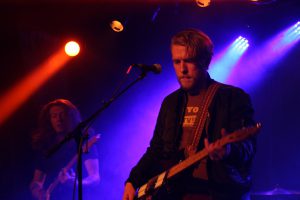 The dream of sharing the stage with some of the world's top artists could very soon be a reality for emerging alternative rock band Camera Box.
Camera Box, an Atlanta-based five-piece that sports the talents of UWG alum Danny Weathers and Carrollton High School graduate Carter Culwell, is inching closer to making this dream a reality as they go deeper into Miller Lite's Road To Roo competition hosted by Atlanta's ALT 105.7.
The competition is set up as a battle of the bands in which local musicians compete in preliminary rounds in their city and advance toward the state finals. The winner of the competition will be given the opportunity to perform at the world famous Bonnaroo Music Festival in Manchester, TN from June 7- 10.
As participants in the Atlanta branch of the Road To Roo competition Camera Box has advanced through both the quarter-finals and semi-finals with a pair of performances in the Music Room at Smith's Olde Bar where they have been performing regularly for the past two years. Along the way they have also had the opportunity to gain fans and to grow as a band despite being in such a familiar venue.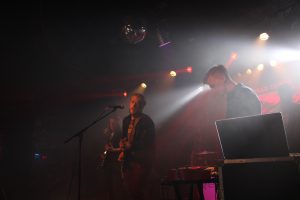 "It has been a blast," said lead singer Danny Weathers. "We've gained new fans, new connections with other talented bands, and a new energy that we are feeling which is very exciting."
This new energy is especially important as they have recently been working on the follow up to their 2016 debut album Physical. The excitement is also showing as they continue looking forward to upcoming projects which include numerous performances in the Atlanta area and other projects such as the recent release of the in-studio performance video for their most recent single "Diagnosis."
"'Diagnosis' is about feeling misinterpreted by those around you," said Weathers. "The song is different from our others because we chose to use plenty of major chords and a faster tempo. We wanted to create a song that made people feel good without being cheesy or sacrificing lyrical content."
As the city finals for the Road To Roo competition approach it is easy to say that each group that has made it to this point deserves to be where they are. Through each round the talent continues to improve but it does not hinder the contestants from enjoying their experience.
"We are optimistic about our chances at the city finals," said Weathers. "The other bands are great and we know that it's going to be a fun night."
The Road To Roo has shown to be an exciting journey for both musicians and fans alike and has succeeded in connecting local artists to wider audiences. The Atlanta city finals will take place at Sports and Social on March 28 and feature the talents of Camera Box, Chelsea Shag, the Sunny South Blues Band and The Howling Tongues.
Comments
comments