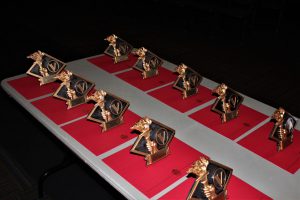 In honor of celebrating black culture and excellence throughout the month, the Black Excellence Leadership Awards (B.E.L.As) ended the Black Project's month long series of events by acknowledging the unforeseen leaders at UWG. This formal event was hosted by the National Association for the Advancement of Colored People (NAACP) chapter at UWG. Students and guests came dressed to impress for the red carpet hosted by The WOLF Internet Radio along with photographers such as OneShotJohn.
The second annual final event of the Black Project, recognized 14 minority individuals and organizations at UWG. Planning for this event started in October. Tyrahn Brown, owner of "Events by Tye," worked rigorously with the NAACP executive board to create a seamless event. Learning from mistakes last year helped to improve this year's show. Other organizations involved such as the African Student Association also participated in making this event happen by providing volunteers.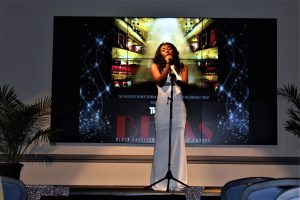 "The B.E.L.As gives black leaders on campus an opportunity to be appreciated or showcased for what they do around campus because we are the minority on campus," said Kayla Mitchell, president of NAACP at UWG. "We thought it would be a good opportunity to close Black History Month on a positive note and we also feel like by showcasing these different leaders and different organizations, it'll give people more motivation to get involved or to become leaders."
The Black Project council worked together to create a list of categories in which they felt Black students have not received enough credit for through the university's annual student achievement awards. Once the nominations are submitted for each category by the student, the award committee selects the students with the most nominations to form the ballot.
For three weeks UWG students had the chance to cast their one-time votes on orgsync for the following categories: Leadership award, Achievement award, Excellence award, Community Service award, Behind the Scenes award, Most Impactful Community Service and Outreach event, Best New Organization, Most Improved Organization, Most Influential Organization, Most Influential Fraternity, Most Influential Sorority and Organization of The Year.
Tia Tuggle, former Black Student Alliance President, created the foundation of the Black Project in 2017. Throughout the month of February, the Black Project's series of events has celebrated Black history and pulled people out of their comfort zone. This is a series of events, in which, Tuggle established to run annually.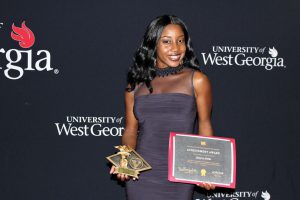 "I think that what she did was so great to bring all of us together, all these different organizations, when sometimes there's division," said Mitchell. "She created unity here on this campus especially between black people. I think that is amazing. We work so hard to do what we do. We're here for the campus, for the community, we're here to advocate for the advancement of colored people and we strive to do that every day. We strive to create new leaders from now moving forward. I work with an amazing team of people and I'm more than fortunate to be able to do so."
Throughout the award show, there were several performers such as singers, dancers, and poets. The masters of ceremony, Neferteria Wells and Jahquele Burks, kept the audience engaged and entertained the entire night while members of the organizations involved presented the awards. The Black Project is expected to be bigger than ever next year.
"We're always about being bigger and better than the year before, so next year we hope to see this event be even bigger, even better, more participation, more people coming, we're all about improvement," said Mitchell.