The UWG Department of Art holds an art exhibition every six weeks. The art exhibits are a part of UWG faculty presenting work from professional artists of different backgrounds and curriculum.
Professional showcases are displayed in the Humanities Building. The art exhibits are changed every few weeks to give students and faculty a diverse amount of artwork on display, to discuss, photograph, write about, and enjoy. Some of these artists are even international and have been booked up to a year in advance. The artworks include paintings, sculptures, and imagery.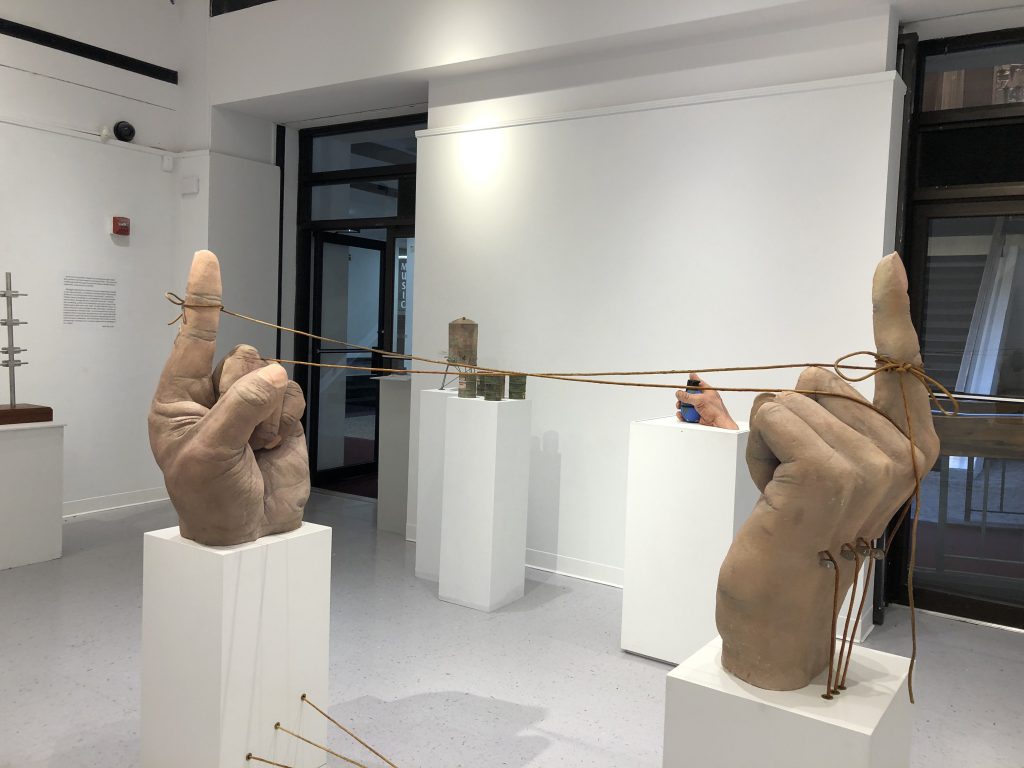 Currently, the exhibition that was last seen in the humanities building for professional artwork was by Keith W. Smith, who is known for his sculptures of hands and other body parts. The next exhibition will feature an international artist. The schedule of exhibitions can be found on the UWG Department of Art's Facebook page.
"We
have four galleries total," said Stephanie Smith, the UWG Department of the Art's Gallery Coordinator.
"The
gallery in the Humanities Building on the bottom floor is our professional artist gallery, then there are three more in the building."
These three galleries are reserved for students' display of artwork. The gallery on the third floor in particular, is for graduating seniors during their capstone project in their last two semesters of undergrad.
Each student receiving a B.A. in Art is required to put their artwork on display for their last semesters of undergrad as part of the art curriculum.
"We
have even had students who have studied abroad during their senior year to places such as France or England and they use their explorations to create art for the exhibition," said Smith.
"Experience
helps create high-crafted technique and strong concept."
The art exhibits when on display are open every day during normal school hours.
There is even a jury exhibition that begins in the Spring of every year where the Department of Art selects an outside Juror to be a part of the exhibition. The jurors can be artists from different media, gallery owners, and even visual artists themselves.
"This
is an opportunity for students who are not a part of the Department of Art to be allowed to enter their artwork," said Smith.
The Juror will choose anonymous artwork submitted digitally by the students. Students have the opportunity to receive awards, acknowledgements, a chance to attend a reception in their honor, and even an opportunity to have have their artwork published and purchased by the University or outside bidders.
Students who are interested in being a part of the jury exhibition must submit their artwork in early December before the art exhibition begins in January. More detailed Information can be found on the UWG Art Department's Facebook page and additional events.
"We
encourage students to get involved," said Smith.
"We
host many events throughout the year, have a group called Art Student Union and even professional speakers that come in and teach students during demonstrations. There are endless opportunities."
Comments
comments