A sense of normalcy returned to UWG campus as football fans packed the stadium for the wolves first tailgate and practice game of the year Thursday, March 11. Approximately 1,300 students, alumni and fans came out to University Stadium to watch the scrimmage between the blue and white teams for the first time since homecoming last fall.
The four-hour event was packed with opportunities to connect with fellow students and campus organizations at the pre-game tailgate that have otherwise been restricted to online interactions. Eleven organizations gathered on the hill for music, food and games including University Recreation, Student Affairs and Enrollment Management, Alumni Association and Greek fraternities and sororities.
"The Center for Student Involvement (CSI) is ecstatic about providing students with on-campus and in-person events," said UWG Director of Student Engagement and Leadership, Dr. Lakiesa Rawlinson. "We know involvement fosters learning and helps students to feel connected to the institution."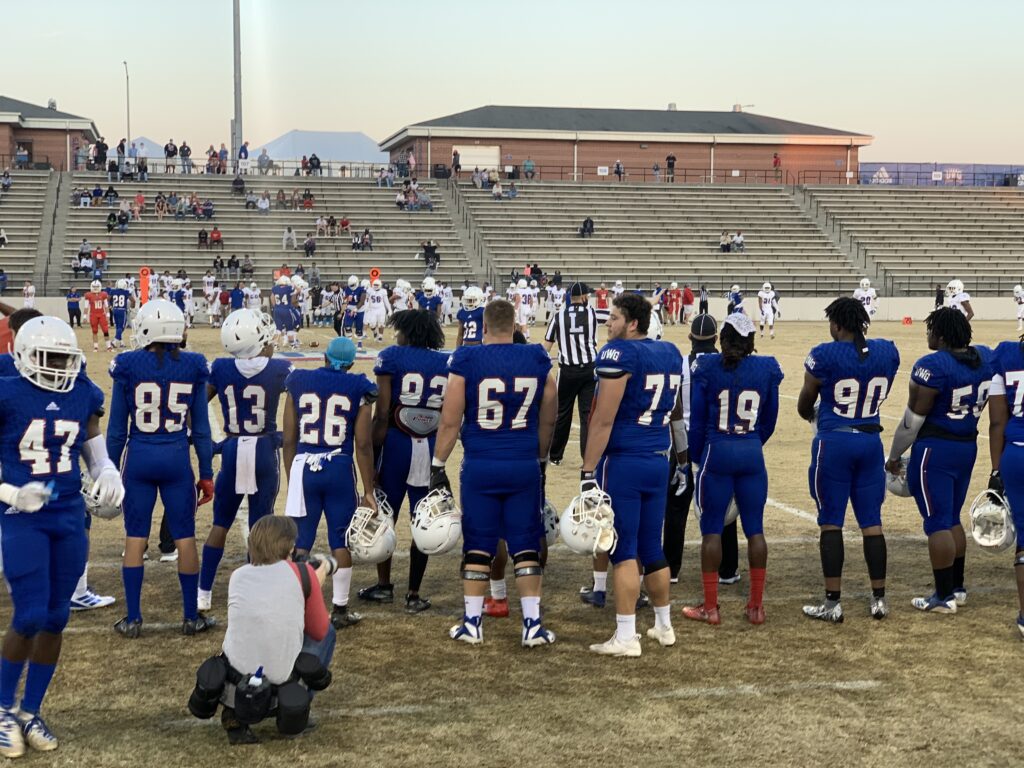 The first 200 students to arrive at the tailgate received a t-shirt and wristband that granted free, unlimited concessions for the entirety of the event. All guests could also enjoy individually poured snow cones and fresh cotton candy without charge as they watched the scrimmage. With the stadium full of howling fans alongside the cheerleading squads, the band and mascot Wolfie, it felt much like pre-COVID times.
"For this spring game, our planning framework differed in that all campus stakeholders co-created the experience and introduced many new ideas," said Rawlinson. "Our focus was on operational outcomes with the plan to draw on information learned from the spring game to inform future athletic experiences and activities. Overall, the working group feels that the operational, planning and policy changes yielded positive outcomes and increased overall participation and tailgating."
For students who felt uncomfortable attending the in-person event, CSI connected with them through a live-stream of the game. Although the pandemic endures and restrictions are still in place to limit the spread, like socially distanced seating between groups of four and mask requirements inside University Stadium, more in-person events are resuming.
"CSI has offered a wide range of in-person and virtual opportunities to foster student development and growth," said Rawlinson. "Most in-person events include an online participation option to allow students an opportunity to engage based on their comfort level.
"Virtual fatigue has been the biggest challenge," continued Rawlinson. "Few students have participated in virtual events when an in-person option was available. Our goal is to continue providing meaningful engagement and co-curricular opportunities for students in a safe and responsible manner."
Football fans were not the only ones excited to be back at University Stadium. The players returned to the field ready to face off against one another in the scrimmage coached by seven UWG alumni who are now playing professionally in the Canadian and National Football leagues. Despite not having played an official game since 2019, the team of more than 100 athletes was prepared for competition as evident by the blue team making a comeback in the fourth quarter to win the scrimmage 28-23.
"Training has definitely been full-fledged," said UWG Assistant Athletic Director, Matt Cooke. "Basically we've had two spring practice seasons. The coaches said the players have worked hard."
The wolves are expected to return to the field this fall for their regularly scheduled season.