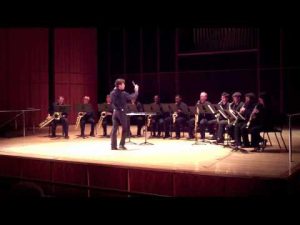 The wait is nearly over for the University of West Georgia Saxophone Ensemble's historic performance of Beethoven's Sixth Symphony. The first of its kind performance in the Townsend Center for the Performing Arts will take place Monday, April 3.
The performance will not only be significant in terms of difficulty but also as it will be the first all saxophone group to take on the challenge of an entire Beethoven symphony.
"We will be the first saxophone ensemble, to my knowledge, on the face of the Earth to ever perform a Beethoven symphony in its entirety," said Dr. John Bleuel, conductor of the UWG saxophone ensemble and renowned music professor. "Especially at a school that does not have a string program, to be able to give a live performance for our students, as well as the general public, of a master work like that is the opportunity of a lifetime."
The performance is not only going to be historical, it is also going to be very intimidating. Beethoven's Sixth Symphony is a beautiful marathon divided into five movements and typically takes an average of 35 minutes to perform as a whole. These movements show an incredible range of emotions and tone, from the calm melodies of movement two, known as the "Scene by the Brook", to the violent madness of movement four, fittingly called "Thunder Storm". As a whole, the symphony shows the complexity of the mind of one of the greatest composers on the planet and also holds personal significance to many who have come into contact with it.
"The piece has tremendous personal significance to me," said Bleuel. "My wife and I had the good fortune to see the Berlin Philharmonic play the Beethoven Sixth in Carnegie Hall about three weeks after the Sept. 11 attacks in 2001 and they chose this piece as the final piece of an entire week of Beethoven concerts and I was puzzled at why they would end with the Sixth Symphony. I didn't really realize until I sat down in my seat that night and opened the program and looked at the movement titles and the last movement is 'Thankful feelings after the storm'. It was part of the healing process."
Despite being an incredibly difficult piece to perform, the UWG Saxophone Ensemble is always up to the task. The ensemble is comprised of over 30 members including UWG students and graduates, local educators and students from local high schools and middle schools and continues to grow each year. The ensemble meets every Wednesday night from 6:45 p.m. until 9 p.m. to rehearse and get their pieces ready for each semester's performance. It is this drive and work ethic that has helped the ensemble to remain among the most elite groups of its kind for such a long time.
"A lot of us have worked together for a long time," said Bleuel. "It's a very talented group. It's a very special collection of really good people in addition to really good musicians. Of all the groups I've ever conducted in my 31 years of conducting, this is my absolute favorite group. To able to do this piece that means so much to me personally with this group that means so much to me personally is quite an emotional crossroads."
Beethoven's Sixth Symphony is filled with emotion and imagery as you are walked through the calm countryside, enjoy merriment with friends, encounter a threatening storm and experience thankful feelings as the clouds finally break. The University of West Georgia Saxophone Ensemble would like to invite everyone to their historic performance on April 3 at 8:15 p.m
Comments
comments