Starting in the mid-2000s, Alternative R&B crashed the music scene as an up-and-coming subgenre ready to contribute to the mainstream music world. Now, artists like Lauv, Quinn XCII, Blackbear, Jon Bellion, and more have helped shape both contemporary and indie R&B music.
"summer,"
EP, Zucker is on tour and will be coming to Vinyl in Atlanta on Oct. 22.
Artists like these influenced 21-year-old Jeremy Zucker, a rising Alternative R&B artist. Since releasing his new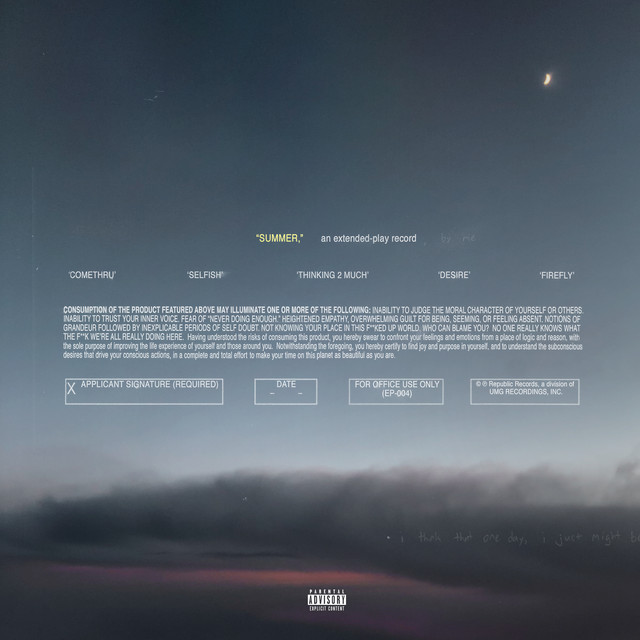 After signing with Republic Records in 2017, Zucker transitioned from an underground artist posting his tracks on Soundcloud to a household name receiving millions of listeners on Spotify and Apple Music. College students can relate to Zucker's songs due to the chill, vibey beats and the messages of growing up, young love, and self-discovery that resonate easily with college-age students. Zucker recently graduated from Colorado College himself.
"summer,"
features five new tracks:
"comethru,"
"selfish,"
"thinking
2 much,"
"desire,"
and
"firefly."
Each song delivers a message of how to navigate life through the eyes of a twenty-something.
His new EP
"comethru",
features relaxing acoustic vibes and the human desire for connection. The pivotal lyric before the chorus,
"It's
alright to not be fine on your own," characterizes the song as an anthem for those entering adulthood, struggling to make peace with what living life independently is like. People need others to rely on, and that is what the song is about.
The first track on the EP,
"selfish"
stands out for its lonely but attractive ambience. Its fresh beat juxtaposes the lyrics of trying to be noticed in a society of staying
"low-key."
Although his songs tend to have positive, uplifting tones,
"thinking
2 much" sounds equally as melancholy. The melody is hauntingly beautiful, but the chorus reassures listeners that life has a lot to offer. Zucker focuses on overthinking and encourages people to slow down and enjoy love and life.
"desire"
bring a less uplifting story to the collection. The song comments on the aftermath of a breakup, noting the angsty moments of looking at pictures of an ex or using distractions to forget about the situation. He questions what people desire. While the song lacks a silver lining, the story is still relatable and encouraging in the sense that listeners are not alone in their heartbreak.
The groovy bass line and powerful bridge in
"'Cause
after dark, we see the brighter side." In
"firefly,"
coming to terms and facing the reality of a twisted, toxic connection. At the end of the day, Zucker reveals that not every connection is a good one, even if it may seem good at first, but it is relatable in that everyone ultimately has that experience.
Last on the EP, Zucker delivers the silver lining behind the end of a relationship, singing,
"summer,"
Zucker addresses issues and situations that most young adults go through. He makes his listeners discover that they are not alone. Although not all of his songs are upbeat, listeners can find comfort in knowing that the ups and downs are normal.
Through