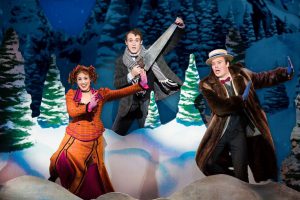 The Broadway show A Gentleman's Guide To Love and Murder recently came to the Fox Theatre. The show is based off a British novel from 1907 that was written by Roy Horniman. The show has won four Tonys, including Best Musical.
A Gentleman's Guide To Love and Murder tells the story of Monty Navarro's quest to love and fortune. After Monty's mother dies, a strange woman appears and informs Monty that his mother was a D'Ysquith. The D'Ysquith family is the most powerful and richest family in the land, but when she eloped with a spanish musician she was disowned by the family and therefore disinherited.
Through this Monty realizes that he himself is a D'Ysquith and reaches out to the family so he can get rich and attract the woman he loves, Sibella. Unfortunately for Monty, Sibella gets engaged with another man because he is more well-off than Monty. Monty knew that the only way to win over Sibella was to get the fortune that is the D'Ysquith inheritance. But with eight family members ahead of him, Monty knows that there is only one rational choice. He has to kill all eight of the relatives ahead of him in order to get the love he wants.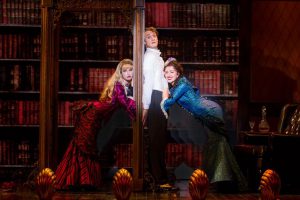 While the story behind the play is a serious one, the show still provided laughs all around the Fox. The creative ways that Monty thinks of to kill off his newly found relatives was nothing short of spectacular. His murderous ways included putting honey in the helmet of a beekeeper to have one stung to death and also cutting the ice of a skating rink to drown another. But no matter how Monty planned the death, it always ended in a comedic way.
A huge focus of the play was surrounded around the love triangle of Monty, Monty's cousin Phoebe, and Monty's true love, Sibella. Towards the end of the play Sibella becomes jealous of Phoebe after Monty and Phoebe get engaged. But when it all comes to an end both of them team up together to get Monty out of prison for a murder he oddly did not commit. Monty is eventually freed from prison and stands alone as the king of the D'Ysquith family.
The performance from the actors was amazing all throughout the play. They did extremely well staying in sync with one another without missing a beat. The connection and enthusiasm between the actors really kept the crowd drawn in through the ups and downs of Monty's story.
The play was clearly written to make those watching laugh and it did not fail to do so. Every song, every dance and every scene was performed excellently and had everyone in the crowd laughing. A Gentleman's Guide To Love and Murder was a story of love through the twists and turns of murder that left all who watched with a smile on their face.
Comments
comments