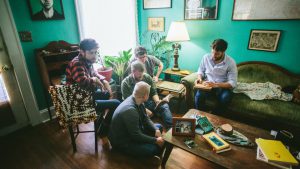 Pony League, an Atlanta based band of close-knit college friends, will officially release their latest album, A Picture of Your Family Friday, March 23. Pony League is most known for their ability to create honest and raw music that paints a picture throughout each verse. With this album, fans can expect nothing less than artwork.
A Picture of Your Family was specifically made to inspire those who need help getting back to their roots and to remember where they come from.
"If you look at a picture of your family or even a picture of you and your friends from college on a bad day, that kind of reminds you of who you are and you can walk out with a little more confidence," said frontman, Gus Fernandez.
Every family goes through trials and tribulations throughout life, but the lessons family members learn from one another lay the groundwork to shape the person that they grow into. Fernandez wants to tap into those memories through music.
"The idea was that it all stuck with this theme that paints a picture of who we are and hopefully for anyone that listens to the album will be able to make a connection to it," said Fernandez. "I want people to connect with it because the songs are inspired by real life moments. I just want people to relate however they want to."
Pony League prides themselves on their unique sound and their journey of finding what most influenced it over the years. They evolved their style of music from the loud, punk style to a more melodic and mellow tone that allows the band's listeners to connect with the music on a different level.
"We really started to be ourselves as opposed to playing so loud, it was hard to get a sense of who we were," said Fernandez.
The band has much to look forward to in the coming months. The group plans to perform at various venues throughout the southeast. Pony League also has big news for vinyl lovers coming in June.
"When we get the vinyl, we are going to do another run around the southeast and keep that going throughout the rest of the year and spread the music," said Fernandez.
Whatever sound that comes out of the speaker, listeners can look forward to getting back to their roots.
Comments
comments