Shamrock week is an annual event held by Kappa Delta Sorority to help spread awareness of child abuse and neglect. This year a mini Shamrock week took place for the first time ever Oct. 23-25 as a way to raise more money before their big week in the spring. The event consists of a three day long fundraiser with all proceeds donated to the philanthropies of Kappa Delta Sorority.
Monday was Shop Day at Entourage boutique. Entourage donated 20 percent of all sales to Kappa Delta. Tuesday was "Tabling in Grassy Triangle". This fundraiser provided Kappa Delta the opportunity to sell raffle tickets on campus from 10 a.m. to 12 p.m. Donation or not, people were also given the option to sign up for Darkness to Light training Tuesday night from 7 p.m. to 9 p.m.
Darkness to Light is an event made to educate others of the warning signs regarding child abuse and neglect. It raises awareness about child abuse and helps teach trainees the important factors of recognizing when abuse could be taking place.
"This is a pretty interactive event. There are videos of people who have been victimized sexually, mentally and emotionally" said Taylar Jackson, certified advocate for child abuse awareness. "The leader will ask questions and people discuss the questions in groups."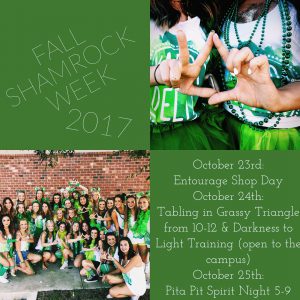 Not only does the event offer valuable information on what is a sensitive topic for many, it also provides those wanting to enter any field that works directly with children with a valuable resource to use later down the road.
"You receive a certificate of recommendation that is good for up to two years," said Jackson. "It's pretty ideal for anybody who plans to work with children like nursing majors and education majors who have to participate in these types of events."
On Wednesday night, Kappa Delta hosted a spirit night in collaboration with Pita Pit from 5 p.m. to 9 p.m. where a percentage of their earnings will be donated to the philanthropies.
Kappa Delta hosts Shamrock week every year, but this year they wanted to give the fall a try to see how much money they could raise for their philanthropies: Prevent Child Abuse America and the local Carroll County Child Advocacy Center. Kappa Delta had an extremely successful Shamrock and week and plans to donate 100 percent of their donations to the two philanthropies.
The intent of Shamrock week is to shed light on serious matters such as child abuse and neglect. Kappa Delta will continue to support their philanthropy and spread awareness to others in years to come.