For all women in need of a special girl's night out full of worship and fun, The Grove is the place to attend. The Grove is for women only and has the ability to bring people together from all over the metro Atlanta area for worship and fellowship. The Grove is held on the first Monday of each month from Sept. to Dec. beginning at 7:30 pm located at Passion City Church of Atlanta.
Shelley Giglio is the co-founder of the Passion Movement, and leads The Grove. Giglio is a woman every girl, young or old, can look up to and follow in her footsteps because she works hard at everything she does. Not only is she fully involved in church and sharing the message of the Lord, but she is also one to help everyone that crosses her path.
"Through the excitement of one's happy heart, brings happiness to mine," said Giglio.
Giglio started this event 19 years ago and it stands just as strong as ever today. With each new year there are always recurring faces and many new participants. This gathering is an extension of what Jesus is doing in and throughout the Atlanta community. If you have young children, this is not a problem. There is childcare service at no cost during The Grove. This has resulted in a much better turn out for The Grove.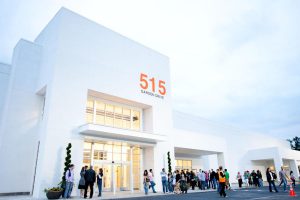 Not only does The Grove provide childcare, they also provide food and beverages for everyone who attends. This is a great time to socialize before the event starts and to meet others who share the same direction in life as you. The location is convenient and they have an extended amount of parking with buses that will take you right to the front door.
There is worship at the beginning and the end. The band is always singing the most requested songs and if you really enjoy the music, you can download their songs and find their band on YouTube by simply searching Passion City Church worship. The Grove hosts multiple events itself and to find this information you can go to their online website or follow them on Instagram, YouTube, Facebook and Twitter. All of their upcoming events are posted on each source of social media.
On the next worship gathering held on Nov. 6, The Grove is bringing in Melodie Malone and Jourdan Johnson to play and sing with the band. These women are invited once a year to perform and lead worship. They are planning to play new songs they have recently written and they are also going to be playing previous songs they have played at The Grove that have been a crowd success.
Giglio brings in fellowship speakers from all around the world to share with their guests. This means everyone gets to hear a service from multiple different perspectives. On Nov. 6, there is going to be a surprise guest fellowship leader that will stand alongside Giglio. The guest name has not yet been mentioned. Giglio plans to keep it a surprise for all the women attending.
The Grove has become a safe place for women to gather together and share their way of life. Everyone involved is welcoming with open arms and always happy to have new guests.