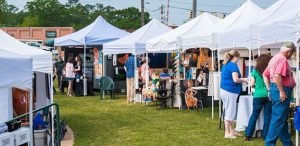 The Villa Rica Art Coalition will be hosting its ninth annual ArtFEST on April 14 at the Mill Amphitheater. The event showcases different artists and their pieces of art. It also has activities like children games, entertainment, food and plenty of other activities.
"The purpose of ArtFEST is primarily to give artists an opportunity to show and sell their work and thereby give the community a fun day to explore the arts and bring it into their homes," said Hallie Henrickson, President of the Villa Rica Art Coalition. 
Henrickson developed his passion for arts at a young age and because of that passion, would like to see more children interested in ArtFEST. 
"We definitely want children to learn to love art in all the various disciplines. One of our goals is to bring children into the festival by sharing their creativity,"said Henrickson. "ArtFEST is a family event and we have so much for children to enjoy."
With the event starting as an art walk and now an ArtFEST, the organizers would like to see the festival expand even more in its ninth year and in future festivals to come. 
"I'd like to see a lot of participation from the community like volunteers. It's the best way to get involved and a lot of fun," said Henrickson. "We also hope to involve students of all ages and give them the opportunity to help and to show their work." 
The Art Coalition also uses the ArtFEST to help bring awareness to the community about the arts and expanding the reach of the Art Coalition beyond the ArtFEST. 
"The Art Coalition has been fortunate to raise funds to help Villa Rica High School set up a complete printmaking shop. They will have a booth this year at ArtFEST," said Henrickson. "We have also been able to contribute funds to the Gold Miner statue that will be installed downtown Villa Rica in future. We have sponsored performing arts workshops and given grants to several students along the way."
This year ArtFEST aims to be an event the whole family can enjoy. The ArtFEST looks to have pieces of art from talented artist that art lovers will appreciate. The event will also attempt to bring in future art lovers with fun activities centered around the wonderful world of art.
Comments
comments