Before Green's performance, The Country Grit Band, a country music group from Bremen, Ga, opened the show. They kicked the concert off to a good start, playing tributes to music legends such as Lynyrd Skynyrd, the Allman Brothers and Turnpike Troubadours. Following the Country Grit Band was country music prodigy, Reid Morris. Morris reeled the crowd in with his new single "Like a Song".
"I've followed Morris for the past few years and was thrilled to hear he would be opening up for one of my all-time favorite country music artists, Riley Green," said Chance Harvey, student at the University of West Georgia.
Riley Green took the stage around 11pm. When Green began to play his biggest hit so far, 'Bury Me in Dixie,' the crowd went wild. Green managed to keep his fans alive throughout the show, performing his own originals including "All Along," "Atlantic City," "Play Her Tonight," and "Run Out of Tears."
Before Green played his first song, he allowed one lucky gentleman, Kody Cavender, to come on stage in front of the audience to propose to his girlfriend, (now fiancé), Tanya Awtrey. An uproar of excitement shot through the crowd for the newly engaged couple.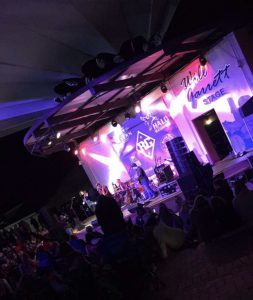 "I don't know many music artists willing to allow something as spontaneous as a proposal to occur on stage. There's always so much going on, but that didn't faze Riley," said Caitlin Voyles, nursing student at UWG.
Green is from Jacksonville, AL; born and raised into songwriting and performing. His biggest influence was his grandfather, Bufford Green. Green's grandfather taught him all about old traditional country, bluegrass and southern gospel music. Green fell in love with his roots and found inspiration through his grandfather to become a country music star.
"I am beyond glad I went. It was freezing outside, but Riley Green is worth it," said country music goer Amber Bell. "Not only is he a country music sensation, but he is also humble."
Most of Riley Green's songs reflect on the experiences of a young southern man trying to find his place in the world. Songs such as "A Little Hank" and "Almost" reflect on times well spent with his grandfather. At the end of the day, Green is still that Alabama boy grounded by his southern roots from generations of southern gentlemen.
"It's not just a country state of mind, it's a lifestyle," said Green at the end of his show.