Of all the collegiate basketball players in the state of Georgia, the brightest potential to make it onward to the NBA likely resides in downtown Atlanta. Georgia State's D'Marcus Simonds has been dominating college basketball with eyes set on a future in professional basketball.
Simonds averages 21.3 points per game for the Panthers, leading the Sun Belt Conference and ranking in the top-20 in all of college basketball. The 6'3" sophomore guard out of Gainesville, GA has been acclaimed for his NBA potential since his freshman season, in which he won the Sun Belt Conference Freshman of the Year award. His physical traits and athleticism along with his dominant and consistent scoring capability had him highly touted coming out of high school, in which he was originally committed to Mississippi State.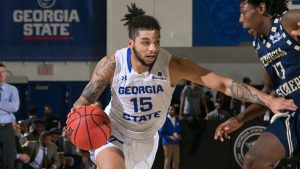 "I think he's the most underrated guard in the country," said Georgia State head coach Ron Hunter via midmajormadness.com. "Scoring became so easy for him, I don't know how you guard him."
Hunter, having seen his son RJ Hunter play for him at Georgia State and eventually get drafted to the NBA, sees NBA potential in his young star. Along with major media outlets such as ESPN and NBA Draft Express recognizing him as well, the NBA buzz surrounding Simonds is certainly legit. Among the major basketball programs in the state of Georgia, such as Georgia, Georgia Tech and Mercer, none have a player that meets the talent and the upside that Simonds possesses.
Along with his scoring prowess Simonds is also an excellent defensive player, averaging two steals a game. His end-to-end speed make him a menace in transition offense, and his jump shot is improving with each game he plays. He is proficient in the lanes and attacking the rim, shooting 49.7% on two-point shots, and has shown tremendous improvement as a playmaker averaging 4.5 assists a game. He also posts the third highest Usage Percentage in all of college basketball at 35.4%, meaning over a third of the Panthers' offensive possessions end with a play from Simonds.
As the season progresses and Simonds continues to dominate the competition, the NBA continues to come closer within his grasp. He may not become a superstar, but Simonds has plenty of confidence in his future.
"I'm going to be pretty good," Simonds said last year.
Comments
comments