The end of the fall semester marked the end of an era for UWG Athletics. Eddie Duffey, Senior Associate Athletic Administrator, retired after spending 10 years with the program. Duffey, over his tenure, has impacted countless lives inside and outside the Athletics program, and will leave behind more than just an empty office; Duffey is leaving behind the goodwill, humility and teamwork he instilled throughout the university.
"The first thing that pops into mind when I reflect on my years here is the teamwork," said Duffey. "It was never one single person getting something accomplished, it was always a great collaborative effort, from things like our Corporate Sponsor Program, to our new venues and facilities."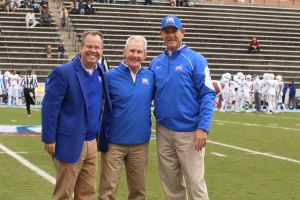 When Duffey came to West Georgia in 2007, there were hardly any athletic facilities on campus. There was no infrastructure for sponsors, or a season ticket program for any sport. Cole Field was on campus to host baseball games, but most UWG sports were played at Carrollton High School because UWG did not have adequate facilities to support sporting events. Through networking, fundraising and hard work, the university was able to build The Coliseum as well as University Stadium, and the surrounding soccer and softball fields around it.
"We really wanted to concentrate on the fans game day experience," said Duffey. "It started with fielding the beautiful venues for fans to come to but we had to encapsulate every aspect of game day, whether if they explore campus beforehand or tailgate, we needed to consider everything," Duffey continued. "Once we realised we had to put the fans first, things simply started happening in our favor."
Duffey always concentrated on putting others first. His hard work representing the university paved the way for corporate sponsors, fundraiser events and game day activities to put UWG on the map on a national level. "One of the most memorable experiences was our football team going to the National Semifinal two out of three years," said Duffey. "It gave us all a chance to represent the school on a much wider scale than we normally would because we got a level of exposure that we do not normally get."
"One thing that is a source of pride for me is we have started getting contacted by other division-II schools asking for tips and advice when it comes to managing a game day, and that is a real honor," Duffey continued. "It spoke volumes about the hard work and the steps the administration was taking to make every gameday at UWG memorable."
When Duffey first came to the university in 2007, there was a disconnect between Athletic and Academic administration. "People in each department were, shall we say, aloof to all the things that could be done to benefit not only our program, but the university as a whole," said Duffey.
Through networking as well as a lot of persistent work, Duffey helped bridge the gap between the athletics program and the rest of the University. This dialogue allowed programs to start benefiting off of each other. Either by national exposure or large facilities to host preview days, orientations and graduations, Duffey has forged a mutual symbiotic relationship with the rest of the university. "It really was a no-brainer," said Duffey. "We knew that if this program was going to be successful, we needed to start building relationships with everybody that we could because you just don't know how much you can help someone until you start creating dialogue."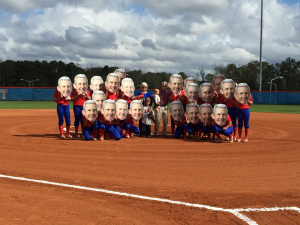 Throughout his time at UWG, Duffey has expressed humility and teamwork to all who work with him. He never says "I" or "me," he always says "us" and "we" signifying the unity of the department. "Nothing would have been as successful as it was if it wasn't for the guidance and leadership provided by Daryl Dickey (Athletic Director) and everything he has helped us achieve," said Duffey. "A lot of credit for our success goes to him as well."
Duffey will continue to cheer on the Wolves on game day, now from a fan's perspective. "I can't overstate how good of a time I have had in my 10 years at West Georgia," said Duffey. "All of the people have made such an impact on me, and each and every student athlete and staff member that I worked with has been really special."
Duffey will be missed, but certainly not forgotten. His impact to this university will be prevalent for years to come. He will not be gone for good, however. Fans can expect to see his unmistakable smile around University Stadium this upcoming football season, cheering the the entire university, not just the football team to another successful run.