Blynne Olivieri, Head of Special Collections and Associate Professor with Ingram Library, says that UWG students should expect to be seeing exciting events and exhibits this semester. She and the other library staff have coordinated events that they hope to be both interesting and surprising for students.
"[It's] a way to expose students to a lot of different t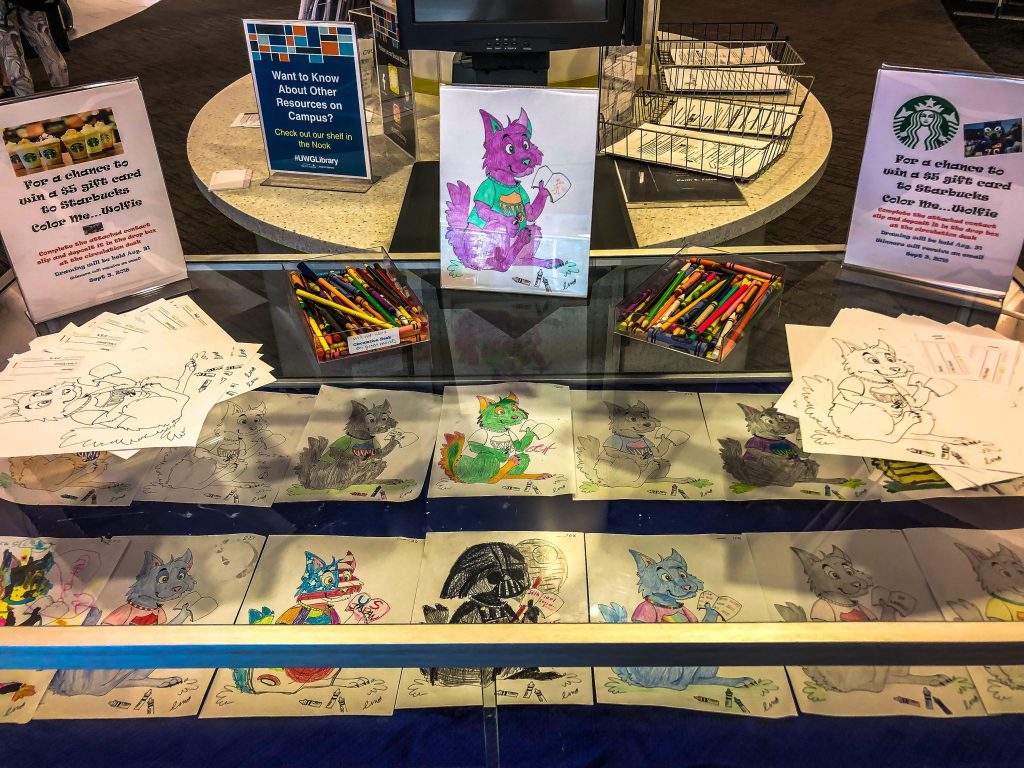 opics they may have never thought of before," said Olivieri on the library's events.
Olivieri, along with the rest of the library staff, spend months planning and researching topics to focus on throughout the semester. These topics range from the simple August theme of crayons, to more controversial and contemporary themes such as October's
"Off
Beat" theme, which discusses
"Unexpected
Queer History" where students learn about various queer artists and authors, as well as major events and subjects that may or may not be clearly connected to the queer community.
In August, students were able to participate in National Crayon Collection Month by showcasing their artistic sides. Students used crayons supplied by the library to color a picture of Wolfie for a chance to win a Starbucks gift card. The library also displayed carefully curated collections of literature ranging from The Physics and Chemistry of Color, to children's books such as Green is a Chile Pepper.
Throughout September, the library will be celebrating Hispanic authors with book displays. It will also have an exhibit of Ingo Swann: artist, author, and practicing psychic, beginning on Sep. 10. Following the opening of the exhibit, Dr. Derek Lee of Penn State University will be speaking on his book, The Paranormal Mind in Twentieth-Century Literature and Science, and discussing his research that was accomplished with the help of UWG's Special Collections. The library will also acknowledge Constitution Day by hosting a reading of the U.S. Constitution on Sep. 17.
October will begin with a lecture on UWG's history, held by Shanee' Murrain, Assistant Professor and University Archivist. The month will continue with an exhibit titled
"Americans
in World War I," as well as a lecture titled
"Americans
in the Great War," given by Dr. Jennifer Keene. The month will end with the Primary Sources in Psychology Symposium, which is sponsored by The Department of Psychology & Special Collections. This symposium will showcase UWG's world- renowned collection of Psychological papers.
The library already has a lot planned for the fall semester, but Brittiny Prenell, Events Coordinator with the Department of Library, says it is a change of pace for the library.
"We used to host over sixty events a year," said Prenell.
"Now,
we're looking at two events per month."
This cut back in events is due to the library's consideration of students' use of the larger spaces, such as the Nook. Prenell said that these events often interrupt students as they attempt to meet with groups, work on projects and conduct research.
Although the calendar of library events will be lighter, the content will be just as beneficial to students.
"Being at a university… it's really important to have these events and lectures," said Olivieri.
"[Students]
might be in the library and
[hear]
someone talk and wander over and start listening in, and learn about a topic they never would have thought of before… that's what we want to accomplish."