IIDA Georgia recently celebrated their eighth annual charity fashion event, Dressed 2017 from Cover to Cover, at The Tabernacle in Atlanta. The International Interior Design Association is a professional networking association bringing together communities of interior designers. The event was created to promote creativity of architects and interior designers by challenging them to create wearable couture using construction and scrap material including wall coverings, carpets, ceramic tile, furniture components, vinyl, rubber and paint among other materials.
The proceeds benefit Dress for Success Atlanta, an organization geared to help women with professional attire and develop key tools to thrive in the work force. The theme of the event this year included all things fairytale. Each designer team used this theme as the inspiration to design their unique looks. The Big Bad Wolf, Thumbelina, Ursula and Peter Pan are a few examples of inspirational outfits to strut down the runway.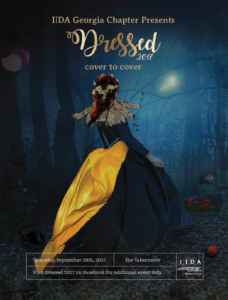 Twenty designer teams showcased their outfits on the runway with very dramatic music and a fun atmosphere while being judged on creativity, craftsmanship, detailing and the use of materials. Modern Luxury's Atlanta Interiors magazine hosted the event and held a party before the fashion show equipped with themed entrees and desserts, an interactive champagne wall, fairytale photo booth and a live DJ for the guests.
"This event is one of my favorites to plan because of the architecture of the Tabernacle and the different theme every year," said Modern Luxury Marketing and Events Director, Ella Gentry Vance. "IIDA is an incredible organization that raises a lot of money for Dress for Success Atlanta. This event has grown larger every year and it is always a huge success. It is not only fun for the designers but everyone watching has a great time all night long."
While enjoying open bars and sponsored popcorn, guests texted to vote for their favorite outfit and five judges selected the top three designs. The judges included Joyce Fownes of Perkins+Will, Steve Hart of HLGstudio, Nanci Love of Colliers International Atlanta, John Schneider of Lord Aeck Sargent and Amanda Wing from the Architecture Firm of Smallwood, Reynolds, Stuart and Stuart.
A long intermission and deliberation from the judges resulted in this year's winning designs. Second runner-up was awarded to Heery with The Big Bad Wolf and first runner- up went to Gensler Hospitality with Rapunzel. People's Choice Award voted on by attendees went to TVSDesign with Little Red Riding Hood and Best in Show was ASD/Sky with Lumiere. Actors in fairytale costumes made sure everyone felt like they were in a story book as an after-party followed for designers and models to mingle with the guests.
"I could not do this every year without the generosity of our incredible sponsors," said IIDA Dressed Chair, Cas Swope." "They are the reason this event happens and the reason the designers get this learning experience."
Raising thousands of dollars for Dress for Success for Atlanta, IIDA Georgia pulled together an interactive learning experience for growing interior designers and an interesting show for attendees.
Comments
comments