UWG student and entrepreneur, Megan Johnson, has launched her handmade workout legging line: Gym Queen Apparel. Frustrated with the way certain leggings fit, Johnson decided to create leggings with comfortable waistbands and sweat proof material.
Each legging fabric is hand picked and special ordered online from a wholesaler. Johnson designs each pair of leggings by measuring, cutting and sewing for the perfect form-fit. The leggings come in short, medium, or long length for every girl.
Before launching her website, Etsy.com/GymQueenApparel, the first pair of new style leggings are put to the test and worn during intense gym workouts to ensure they are up to standards. Johnson has recently created leggings with accessible pockets to hold any sized phone after being tired of holding her phone and tucking it in her waistband during her workouts.
"I want people to feel comfortable and beautiful in the clothing I make, so I only make things that I myself would want to wear," said Johnson. "I'm not sure if it's possible to be a professional leggings wearer, but if that's a thing then I am definitely one of those. I basically live my life in leggings, so I am constantly finding ways to develop them and make them improve my life in some way."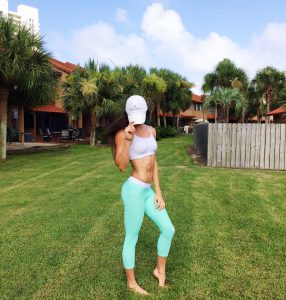 Johnson is working towards a double major in marketing and management to pursue her business goals of growing her activewear collection. Gym Queen Apparel currently only includes leggings, but with her degrees, Johnson hopes to expand her company to other active apparel.
Living a healthy lifestyle is a passion of hers as she stays busy working out five days a week. In addition to that, she prepares her weekly meals which include chicken and turkey, carrots, broccoli, cauliflower, sweet potatoes and peanut butter.
"Health is a term that is used so often that people tend to think of it lightly, but every single person on this planet has only one life and one body; your body is the only place that you will ever have to live, and I think it would be a shame if you never allowed it to reach its full potential by working to be the healthiest version of yourself possible," said Johnson. "Working out and eating healthy food is not something that should be considered a punishment for the unhealthy choices you may have made the week before, but rather as a reward."
Gym Queen Apparel offers a wide variety of vibrant colors and patterns and available in custom leg lengths. Johnson is working hard to balance college classes and graduate to grow her activewear business to its full potential.
"I think of myself as a customer for my own products, therefore I am motivated by wanting items that will make my life as a busy college student easier, so that's exactly what I create and I think that is what makes my brand different," said Johnson.
Comments
comments