The West Georgian for future scholars and alumni through digitalization with the help of a grant provided by the Watson-Brown Foundation.
Special Collections at Ingram Library has begun the preservation of
The Watson-Brown Foundation was designed to improve education in the American South by funding schools and students, preserving school history and encouraging responsible scholarships through creativity, diligence and financial support.
"We
connected with the Watson-Brown Foundation through our department of development here at UWG which works with Special Collections and the office of Alumni Relations to develop relationships with granters that see the value in Special Collections and materials," said Shanee' Murrain, Assistant Professor and University Archivist.
The West Georgian
ranging from when the paper was founded in 1934 up to 2007. They will be available online on Ingram Library's internet archive making them fully accessible to students, faculty, researchers and community members for free.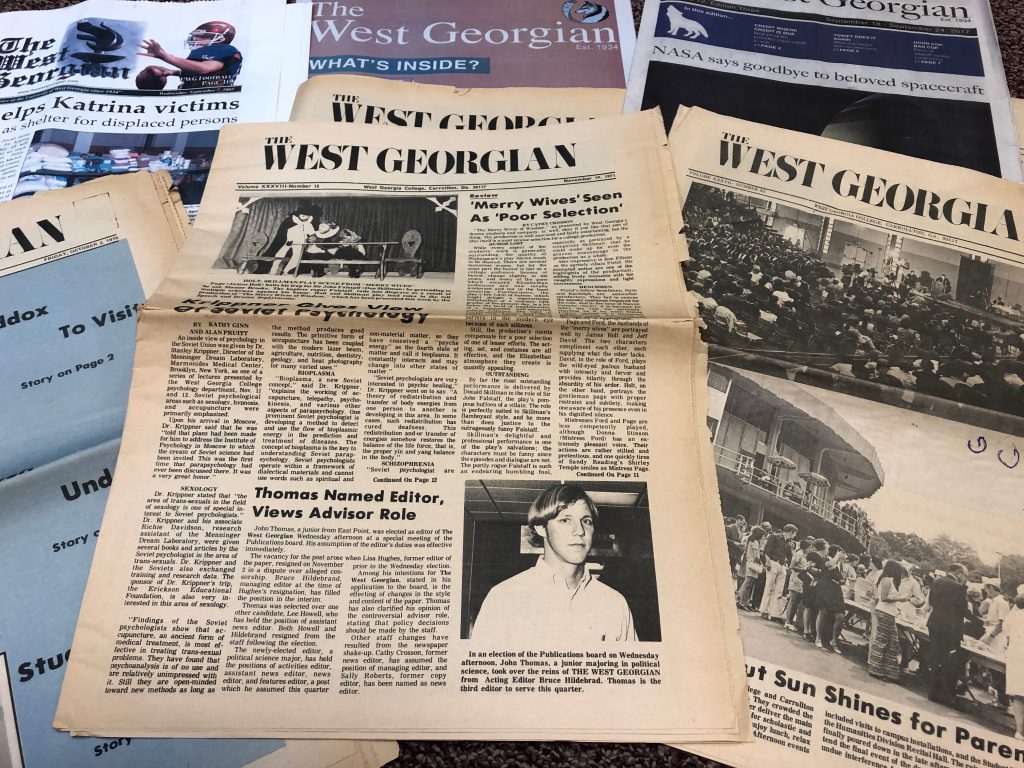 Ingram Library will be digitizing editions of
"The
idea to digitize
The West Georgian
had long been thought of by our Head of Special Collections," said Murrain.
"The
simple reason is use. This paper is regularly sought after. It is one of, if not our most used collection."
The West Georgian on microfilm but having it digitized will make it more accessible to all. Anybody who wants to access The West Georgian will no longer need to come into Special Collections to do so. They will only need to go to the website where every edition of The West Georgian will be available as a PDF text. This will also allow students to filter articles by the year it was published, the author or even by a phrase.
Special Collections has every issue of
"You
can search through a particular version, let's say 1968. You can search through 1968 editions for the word Thanksgiving, and anything having to do with the phrase
'Thanksgiving'
would pop up," said Murrain.
The West Georgian is important to Ingram Library as it contains a lot of history about UWG and the area surrounding it.
Digitizing
"
The
West Georgian
gives a wealth of information about the University of West Georgia, which is the major higher education center in this region," said Murrain.
"It
talks about the history of Carrollton, Haralson County, Heard County and the University history and culture."
The West Georgian also has an abundance of history about national news of the past. Writers were not limited to local news as they wrote articles that ranged from the integration of UWG to the assassination of Martin Luther King Jr.
"There
were columns about student issues or student opinions related to West Georgia and the larger US culture," said Murrain.
"Especially
during the Civil Rights Movement, we had a lot of student editorial conversation about the visit of Robert F. Kennedy and his later assassination. About MLK's assassination. About integrating the UWG."
Special Collections is hoping to complete the project by the summer of 2019.
Comments
comments