The old Taylor is gone in 2017. The singer released her sixth studio album, "Reputation"; on Nov. 10 that displays a powerful change. Taylor Swift has taken it up a notch with her pop persona in this album mixing in deep electronic sounds, collaborating with rapper Future and even dabbling in rap herself. Her rebellious side peeks through as she paints a picture of what was happening behind the scenes in her life.
When Swift released her first single from the album, "Look What You Made Me Do," she aimed to send a message. The infamous feud between Swift , Kim Kardashian, and Kanye West back in 2016 fueled her vengeful theme for this single. This was a response to the victimhood mentality critics continuously accuse Swift of having. A risky, yet cunning execution to prove she gets the last word. Swift continued this rebellious streak releasing her second single and the first track of the album, "…Ready for it?" This aggressive, anthem-like song where she shows off her rap flow completely buried the Taylor Swift that first emerged in this industry. Her full transition to a modern pop artist set the tone for the rest of the album.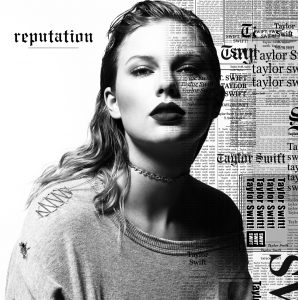 Besides sharing a new defensive, cutthroat approach in her music, Swift still took listeners into the confines of her personal life through songwriting. Before the release of her first single, Swift was basically MIA the past year. Her social media disappearance raised brows but in actuality, it was her creating the pieces of this so-called "New Taylor". Swift has never been one to hide what goes on in her love life and "Reputation" is no different.
Perhaps, the only difference is a more adult, intense and risqué take on her relationships versus past songs. In the track, "So it goes…," Swift reveals her edgier lyrics about meeting someone at a bar saying, "You know I'm not a bad girl but I do bad things with you," and "dressed in black now…scratches down your back now." These lurid lyrics reveal Swift stepping outside of the subtleties box with her songwriting. An attempt to shed off the lasting good girl image she's had throughout her career. In another song, "Dress," Swift gets more intimate saying, "I'm spilling wine in the bathtub you kiss my face and we're both drunk … I don't want you like a best friend, only bought this dress so you could take it off." She captures her version of adult romance and how she's grown lyrically.
This album tells Swift's story from her public faltering with a mix of frustration and ends with an affectionate twist. Contrary to her previous albums, which are consumed with her relationships and exposing exes, Reputation is a self-examination of Swift's character both good and bad. The bursting of synthesizers and drum machines signifies her most commercially sounding project. It is an evolution for Swift both musically and narratively. She tried new things, explored the limits of her comfort zone and revealed the untold that has existed outside the tabloids. "Reputation" gives a sense of realism and is Swift's most honest album yet.
Comments
comments