Network marketing is rapidly making its way into the University of West Georgia and college students. Hannah Shirey, a junior at UWG, is a prime example of someone who has bravely taken on a major business and successfully retired at only 19 years old.
Shirey's inspiration to join ItWorks, a Global and Christian based health and wellness company, began when she followed a graduate of UWG and noticed the success she was gaining from the company.
"She bought a house and a car in cash straight out of college," said Shirey. "I saw how her life was progressing and that is how I got started."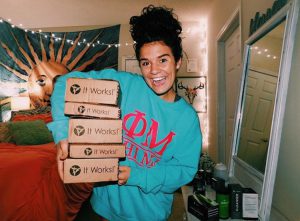 Since joining ItWorks back in April 2017, Shirey was able to earn a $10,000 bonus within her first three months with the company. After receiving an exceptional amount of success, Shirey decided that she wanted to be on her own boss.
"I worked really hard and once I earned my bonus, I told myself that I was not going to work for anyone else anymore and I was going to work from home," said Shirey. "That's exactly what I did and it has taken me about eight or nine months to get where I am now."
Through her success, Shirey is now able to retire at 19 years old. She has based her career off helping others, but now she gets to do so without working a standard job.
"When I say that I have retired at 19, I mean that I will never use my degree and go to a nine to five job," said Shirey. "When I was growing up one of the main things I wanted to do with my career was help people out and I soon realized that I didn't really like the aspect of having a boss. I've worked for a law firm, a supreme court justice, several businesses and I realized that a nine to five just wasn't for me."
Before beginning ItWorks, Shirey lacked the organization that she has now. Through the company, she has developed organizational skills to get through her daily duties.
"Back before I started this company my life was not really organized," said Shirey. "I was just a regular college kid trying to make it through college. With this business my life has been given an extreme amount of structure. I am able to make my schedule from the second wake up to the second I go to bed."
Shirey was unsure of her future and life plans before she joined ItWorks. But after beginning her journey, she now has complete confidence in her plans for the future and knows that she is going in the right direction.
"The biggest difference in now versus back then is that I didn't really know what was planned for my life then and now I am reassured every single day that I am doing what I am supposed to be doing."
Shirey encourages others who are considering the business to give it a try regardless of the fear that may come from the unknown. Because of ItWorks, Shirey is the happiest she has ever been and wants the same for others.
"My biggest advice is for someone to just do it and see if it works for them," said Shirey. "I was always skeptical and curious and I never really jumped out on a limb to see if I could do it, but once I did I educated myself about the company and I was so confused as to why it took me so long to join because now I am the happiest I have ever been. I am also the most financially stable I have ever been in my life. I can tell someone to see if it works for them and if it does they will be as happy as I am."
Shirey plans to continue working from home after graduation. She looks forward to being a stay at home mom in the future and loves the aspect of getting to choose her own work schedule.
"I love being the boss of my own life. It has changed my life and I am so blessed that I have received this opportunity at such a young age."