Atlanta United Football Club is building on their historic inaugural 2017 season by adding a minor-league affiliate for the 2018 season. The yet-to-be-named team will be playing in the United Soccer League (USL) and will bridge the development gap between Atlanta United's top team in Major League Soccer (MLS) and their Under-17 Academy team.
Many professional sports teams, not just soccer clubs, utilize minor league affiliate teams for layer development and rehabilitation of their first team players. All Major League Baseball teams and most professional Basketball and Hockey teams have minor league affiliates as well. The addition of a minor league franchise will allow United to have full power offer for players, prospects and academy players that are not currently suiting up for the first team. In their inaugural season, United employed the services of the Charleston Battery, a minor league team based in South Carolina where they sent a few players for rehabilitation and development assignments, such as goalkeeper Alec Kann who was recovering from a quad injury over the summer.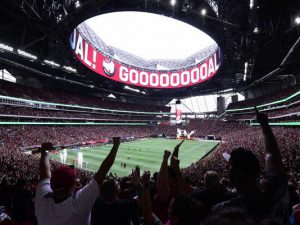 Although United was able to send and receive their players as they pleased, the Battery are an independent franchise, and it is their coaches' discretion how they are to be used in practice and in live matches. If United controls the USL team, United has their own coaching staff that is in communication with the first team staff to ensure players are developing and improving the way they see fit.
"Establishing a top-level Academy was the first priority for our club and while our staff has done a marvelous job in identifying and developing young players, the next step has always been to create the pathway for the 18-to-19-year-old player who needs to continue his development before competing for a starting position at the MLS level," club President Darren Eales said in a press release. "We'll now have the capability to develop players in our system from the time they're 12 years-old until the minute they reach the First Team. We also want to thank Charleston Battery for being fantastic partners over the last two years. The Battery are a first-class organization and we'll continue to maintain a professional working relationship with the club."
The USL affiliate will practice alongside the first team at Children's Healthcare of Atlanta Training Ground in Marietta, GA. Home Games will be played at Coolray Field, which happens to be the home of the Atlanta Braves minor league affiliate, the Gwinnett Braves.
Atlanta United will hold open tryouts for the USL team on Dec. 16, 2017 at the Children's Healthcare of Atlanta Training Ground in Marietta as part the American Family Dream Tryout series.
The USL is one of the most prominent second-tier soccer leagues in the world, boasting even more than that of the first division MLS. Since it's founding eight years ago, USL has served as a springboard for young talent into MLS and leagues outside of the United States. Atlanta United's new USL club will join the previously announced Fresno FC, Las Vegas Lights FC and Nashville SC making their debut in the 2018 regular season.