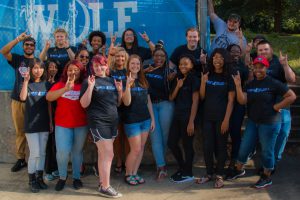 The WOLF Internet Radio's annual music festival, WOLFstock, is coming to UWG with a circus style theme. It will be held on Thursday, April 5 from 6 p.m. to 10 p.m. in the Campus Center Ballroom. There will be free food, games, prizes, live music and a select amount of free t-shirts for students to enjoy.
WOLFstock is a birthday event that celebrates The WOLF Internet Radio's creation in April 2011. This year will be the eighth annual WOLFstock.
"When the station first started, we embodied the college radio attitude that we are against the establishment of corporate radio," said Shawn Isaacs, General Manager of The WOLF. "We wanted local and fresh new music. Thus we honored the original anti-establishment movement of Woodstock by tweaking the name with our station name."
It first began as not only a celebration, but a way to promote The WOLF and get more students aware and involved. The first WOLFstock was created in under a month and a half at Love Valley. In 2015 the event was moved to the Campus Center, which has been the biggest change along with extending the length of the event by an hour to reach more students.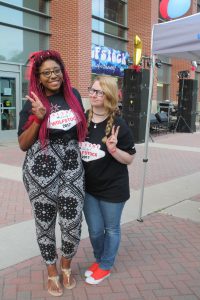 The WOLF has continually hosted performances by local unsigned diverse bands, artists and DJs. This year there will be performances by Katie Martin, Josh Purgason, Mid Boss, Survival Kit, Strategery, Dezzy Yates, Tonio G. and JP and Alden.
The WOLF staff began planning this year's WOLFstock in November when Music Director Gabrielle Thomas and Operations Manager Michael Tucker began gathering performers. Staff members also worked together to determine the theme of the event.
"I definitely wanted to go out with a bang for my last WOLFstock, so after The WOLF staff and I brainstormed a bit, we finally came to a decision that having a Carnival/Freak Show themed WOLFstock would be awesome," said Jasmine Render, Promotions Director.
With the theme established, Render then began designing posters and creating a weekly schedule to keep the promotions team on track when they returned from Christmas break in January.
"I am excited about a lot when it comes to this year's WOLFstock," said Render. "The fact that it is my second one that I've planned, definitely has me hype beyond all measure. Seeing as it is also my last one it's bittersweet but I think I have just used it as fuel to make it one to remember."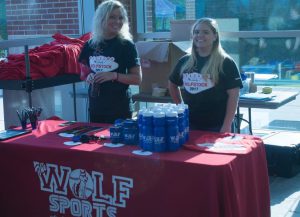 On average, about 500 students every year attend the event over the four hour time period, however this year more people are expected to attend this year. With sponsors such as West Woods, RiverPointe, The Reserve, Student Government Association, Ozier, Carrollton Crossing and Bahama Tan, The WOLF staff and volunteers are expecting this year to be better than ever.
"With the help of my team, I'm definitely excited to see how our hard work comes out," said Render.
Comments
comments