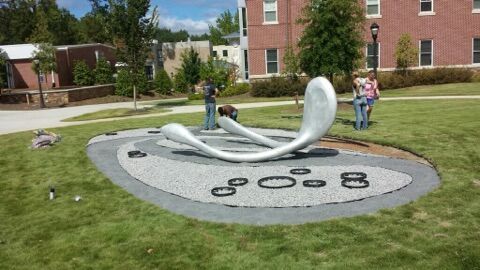 A new aluminum wishbone sculpture on the University of West Georgia's campus has caused quite the talk among the student body. The sculpture was brought to UWG by our sculpture on campus' program. Daniel Hunt, Associate Professor and area coordinator at Kansas State University, is the artist and mastermind behind this work of art.
Hunt was contacted by the University of West Georgia's art department chair, Kevin Shunn, who asked Hunt to create a piece for our campus. Hunt gladly accepted the offer and visited campus to find the perfect location for his wishbone sculpture.
"When I was talking with Kevin initially I wanted to do a site-specific piece down in Love Valley and hopefully at some point I'll be able to see that realized," said Hunt. "(That piece) wasn't going to happen because there just wasn't enough time to get that done in the time that I had." Hunt does have high hopes of returning to our campus to carry out this future piece of art he has in mind.
Hunt spoke with Shunn about making a wishbone instead. "I have been making wishbones at various scales for the last 5-7 years," said Hunt. He and Shunn walked all of campus and claims when he saw the grassy area between East Commons Dining Hall and The Oaks Residence Hall he knew that was the place that his sculpture belonged. "I think it activates that space very nicely," said Hunt.
"I knew I wanted to create a landscape feature. Initially we were going to incorporate flowers," said Hunt. "But the more I thought of it, as far as the maintenance issue and the aesthetics, I went the direction I did and used just the colored rock."
Many students have been exchanging ideas on what they think the meaning behind the wishbone sculpture is or what it represents. Many believe that it is to give hope to students. Hunts meaning behind the sculpture may come shocking to those students who felt this way.
"My intention (for the sculpture) is pointed more toward poking fun at the superstition of any sort of hope in breaking up a wishbone," said Hunt. "There ain't no magic there." Hunt chose to build the wishbone out of aluminum because it is light and easily breakable.
Although Hunt is the sole artist on this piece he did have help from students and staff in the UWG art department. "It wouldn't have happened without that kind of help," said Hunt. Two people he mentioned specifically from our art department were Ryan Lamfers and James Davis, who he spoke highly of and were a great help to him.
"It is exciting for me to put something out in the public, especially hearing that people like it," said Hunt. "But, it is also really exciting to be able to work with other artists and exchange ideas while you're doing all that stuff."
Comments
comments