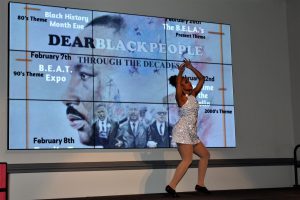 For the second time, Black History Month Eve kicked off the Black Project series of events. This event, on Jan. 31, marked the beginning of a month long celebration of black history, achievements, and culture. Other events in the series include, The Black Excellence and Talent Exposition (The B.E.A.T Expo) with a 1990s theme (Feb. 7), Family Tree on the yard (Feb. 8), Showtime at the Apollo with a 2000s theme (Feb. 22), and the Black Excellence Leadership Awards (The B.E.L.A.'s) with a present theme (Feb. 26). All events, except the Family Tree, will take place in the UWG Campus Center Ballroom.
Black History month is about celebrating, educating, and highlighting the contributions African Americans have made. The Black Project brings this and more to UWG through the events they will host throughout the month. At Black History Month Eve, students were able to enjoy a live museum, entertainment, and food while counting down into February. The Live Museum consisted of volunteers from organizations that acted as specific figures from the 1980s to educate students as they entered.
The Live Museum also highlighted the lives of African Americans during that decade with displays and videos of popular shows and films. The entertainment for the night, after the live museum, consisted of students showcasing their talents through song, dance, and spoken word. However, this year there were not as many attendees as last year.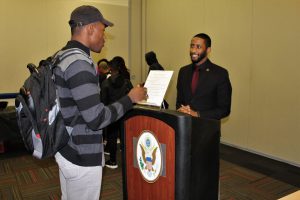 "Our goal is to increase attendance across the whole entire population as far as the faculty and staff to come out to events and actually see how much hard work the students on campus have put into creating this month that celebrates black history achievement and culture," said Matthew Echols, BSA president and head of the Black Project council.
UWG student organizations such as Black Student Alliance (BSA), College girls Rock, Women of Diversity, Inc., Models and Business (MAB), Ambi girls, The Collective, National Association for the Advancement of Colored People, Students of Caribbean Ancestry, and the African Student Association came together to create the Black Project council in October. This year's theme, "Dear Black People: Through the Decades," is to honor the African Americans who influenced our culture during each decade represented.
"We would like to keep this an annual thing during black history month, impact our young scholars and leaders [to join] organizations, [provide] Networking opportunities, and to educate, celebrate, and showcase the talent and leaders we have here at UWG," said Echols.
Former BSA president, Tia Tuggle, former Ambi girl president, Sade Lewis, and former MAB president, Keith Crawford, pioneered the Black Project. Though there are others who have contributed to the establishment of the Black Project, these recent UWG graduates, along with advisors Mrs. Rouse and Dr. Hester, have heavily contributed to making sure the Black Project remains a continuous event by laying out the foundation for others to recreate this series of events.
Comments
comments