UWG's Lambda organization hosted the school's first ever Pride on Oct.18 at the Grassy Triangle. Nearly 100 students came out to celebrate and participate in activities like face painting, hair coloring and a photo booth.
Members of Lambda knew they wanted to host UWG's version of Pride since the beginning of the semester. Since it was the first ever Pride held at the school, they made sure it was well prepared for and sent the same message as Pride events held anywhere else. They used this opportunity to give the LGBT community on campus a place to come together and express themselves. The success of this event truly showcased the values this club represents.
"It is important to improve visibility of LGBT people on campus," said Banks. "Our organization at its core is about serving the LGBT population on campus. We want to promote a safe environment for LGBT people and help educate the student population on their issues."
The name Lambda derives from the Greek letter L standing for "liberation". This symbol has been used for LGBT people starting back in the 70s and fits perfectly with the organization's intention of implementing free expression for their community. Events like Pride assist in the greater visibility Lambda strives to achieve by providing a safe place of inclusivity.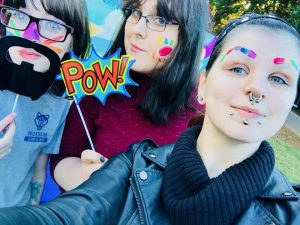 The students who came out and enjoyed this time of celebration were able to embrace this togetherness. A lot of preparation went into making this event happen allowing for a great turnout.
"It was a lot of planning," said Lambda President Vanessa Banks. "The people who took the lead with this event would be myself, Vice President, Sadie Creel, and our faculty advisor, Matt Franks. Without them this event would not have happened."
After being pleased with the amount of people that showed up, Lambda plans on continuing Pride as an annual event. They also hold meetings every Wednesday at 8:15 p.m. in Pafford Hall. They encourage new faces to attend and help spread the message of visibility for LGBT people on campus.
Comments
comments