Rapper Cardi B recently hit the number one spot on Billboard Hot 100 Chart. She's the first female artist to accomplish this feat without any feature or accompaniment in 19 years. Cardi B took her massive hit song, "Bodak Yellow", to the top.
The reason why her rise to the top of the Billboard 100 chart is so important, besides the obvious accomplishment, is for the overall standing of women in the Hip-Hop Industry. Many female artists have been on the Billboard Hot 100 Chart but not as a solo artist. These women tend to be accompanied or serve as a feature. Society's view on women in the industry doesn't even hold a light to the men. Even though women like Nicki Minaj, Azealia Banks, Remy Ma, Eve, Cardi B and Lauryn Hill seem to dominate, women can still be classified as a second class.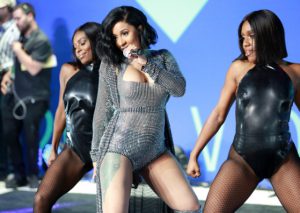 In an interview with the Breakfast Club, Rick Ross stated that if he hired a female artist he would end up having sex with them. That statement along with some powerful lyrics in his song, U.O.E.N.O, seemed to promote a rape culture.
Rape culture is the acceptance of someone being raped, victimized and then tossed aside. With rape culture comes a "they were asking for it" type of attitude also known as victim blaming. More often than not, these victims are women. They are women who are told they can not dress a certain way, act a certain way or say certain things in fear that a man will take it as permission to take something that the woman was never offering.
Strippers have grown in the music industry. From the pole to the mic, many women claw their way through the crowd to find the right connections. Women can't just have the skills or the voice that men have. Women must also have the body, attitude and sexual appeal. Their roles might even have to include the willingness to sleep their way to the top.
However, women continue to strive to not only make a name for themselves but to change the dynamic of how they are viewed. Cardi B's lyrics in "Bodak Yellow" showed the evolvement of her life. She started her career as a stripper. Even though critics tried to keep her down by doubting her capabilities and her raw talent, her lyrics explain it perfectly: "she doesn't have to dance now, she makes money moves."
Joseline Hernandez, another stripper to hip hop artist that starred on Love and Hip-Hop Atlanta, used her job as a way to connect to the hip hop music industry. She met Stevie J who used sex and manipulation to promise her the world. Throughout several seasons of the Love and Hip-Hop Atlanta series, Stevie J used these tactics to control Joseline. Even though the situations ended for both women differently, they both played a stake in how women in the hip-hop industry is viewed.
During her stint on reality show Love and Hip-Hop New York, the blatant disrespect was showcased when she received mistreatment from the man who was supposed to help her in her career, DJ Self. Throughout the season, viewers watched as DJ Self abused his power over Cardi B by making requests for sex or insinuating that sex was what he needed from her in exchange for his help.
When she decided to stop having intimate relations with DJ Self, Cardi B took a stance towards professionalism and breaking a restriction. She could have fed into the stereotype of women needing to sleep their way to the top. Instead, like many other women, she worked hard, stayed in the studio and continued to craft and sell her skill. From that decision stemmed a great accomplishment.
Comments
comments