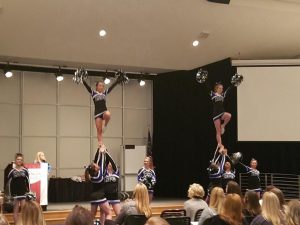 The UWG cheerleading team played a big part in the Georgia Cheerleading Coaches Association (GCCA) Conference on Mar. 16-17 in Athens, GA. The cheerleading team sent four athletes to the competition. Each of the athletes sent were from the all-girl team as well as both of their coaches.
The GCCA is an association that helps support and grow cheerleading across the state of Georgia, as well as promote and teach coaches of various cheerleading teams. GCCA focuses on safety and new rules by teaching proper techniques that should be used at all times.
It is easy to get across to all the coaches by having a coach's conference. There are two conferences held each year, one in the summer and one in the spring. Coaches go to different classes that are spread out throughout the day from 8 a.m. to 5:30 p.m. that teach them what it takes to be a cheerleading coach.
"My favorite part had to be going to all of the different stunt classes," said UWG and Carrollton High School cheer coach, Brionna Lannom. "I learned all about the new rules and changes coming to cheerleading in the state of Georgia."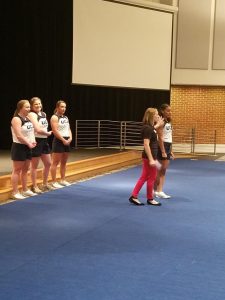 Though Lannom is the UWG cheerleading coach, she was at the conference as Carrollton High School's coach, who recently won the GHSA Cheerleading State Championships. Lannom came to the conference to learn the ways and differences of high school cheerleading versus college cheerleading.
"It's a huge honor to be asked to attend these coach's conferences. As a coach at the conference we're looking to learn how to troubleshoot different stunts and learn the correct technique to take it back to girls and make sure they are applying them correctly," said Lannom. "At West Georgia one of our main focuses is technique. Every practice we stress to the athletes how important it is to have the correct technique when stunting."
The UWG cheerleading team was asked to have a stunt group come to the clinic and demonstrate safe and proper ways to stunt as well as show some new skills that are allowed to be done this year that were previously illegal for cheerleaders to do in the state of Georgia. The stunt group from UWG was made up of the four girls mentioned before.
"It was awesome getting to see the staff do the same stunts I plan to have my girls do and how they execute them," said Lannom. "It definitely helped me learn how to troubleshoot some of the problems I've been seeing with my team" said Lannom.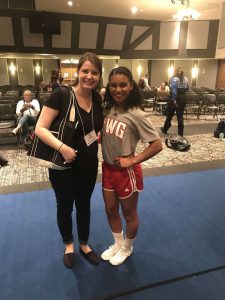 Cheerleading is the only high school sport in Georgia that holds a conference for their coaches. It is growing and continues to change all the time. In order to keep the coaches aware of new rules and new skills, the GCCA helps bring all the coaches together and have a fun cheerleading weekend.
Comments
comments