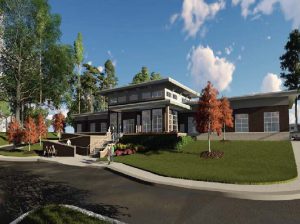 Representatives from the University of West Georgia met for a Town Hall meeting on Wed. March 28 to discuss an updated master plan for the campus. The presentation began with numerous statistics pertaining to the school's current and future budgets. The most pertinent part of the presentation however was the showing of site plans for current and upcoming campus renovations set to be done in the near future.
The first plans unveiled were a construction site photo of the new Biology Building on West Georgia Drive. The photo was accompanied by a layout design showing what the new building will look like. The site photo displays incredible progress on the Biology Building, which is expected to open next fall.
The Biology Building plans were then followed by an image of the new Student Health Center that is currently under construction. Succeeding that was a revelation and site plan for the new soon-to-be-built Richards College of Business Building. The massive building will be built where the now-abandoned Watson Hall currently stands. Watson Hall will be torn down and the College of Business will be built behind Aycock Hall.
The final building that was presented was a new dormitory that is set to be built on the track behind Arbor View apartments and Z6. The plans make the building appear massive and will likely serve as new student housing. There is no current timetable on when construction for it will begin.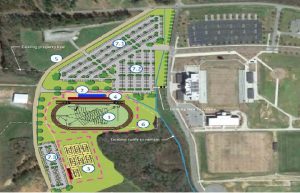 Along with the new building projects, the meeting also unveiled plans for new parking lots in numerous areas around campus. One of the new parking lots is set to be made on the tennis courts between the Murphy Building and the Campus Center on West Georgia Drive. The site plans indicate that 150 spaces will be created in this area.
The dirt lot facing the front of the stadium entrance will also be paved to make parking for football games more convenient for fans. The major parking changes are only one of many new additions to be placed in the vicinity next to University Stadium.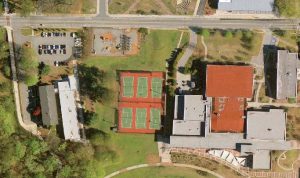 Facing opposite of this parking lot will be a new track and field area as well as new tennis courts to replace the ones on West Georgia Drive. A well-sized parking lot will be made for the tennis courts as well. This will put a mass majority of UWG Sports' outdoor fields in the same general area, with the track and tennis courts now across from University Stadium along with the University Softball and Soccer fields, the football and soccer practice fields and the intramural fields.
These construction projects are being made to benefit the student experience at UWG and further the campus' legitimacy as a whole.
Comments
comments