Delta Airlines honored its military service members and families who packed the TechOps facility in Atlanta on Oct. 7. The exhibit is apart of Delta's annual Veteran's Day event. In the TechOps facility, they had more than just the commercial planes that are in the hanger. In honor of Veteran's Day, the hanger was filled with vintage military jets that have been flown in from across the United States.
The event allowed for Delta's veterans to reminisce with comrades and for their colleagues to thank them for all their sacrifices and protecting their freedom. The exhibit is a part of Delta's annual Veteran's Day event. The airline honored its 10,000 employee veterans as well as the 3,000 employees who are currently active duty.
Employees and the public had the opportunity to tour military jets, including the A-10 "Warthog" and the Lockheed P-3 Orion, Bell AH- 1 Cobra helicopter the Lockheed C-130. Employees were given the option to bring in their personal artifacts for display. Aside from the viewing of the airplanes attendees were able to see military memorabilia, medals, rocket-propelled grenades.
The two-day event highlighted ways to support troops in an emotional way. Mike Moore, Senior Vice President of Maintenance Operations, spoke about the importance of mental health treatment and reaching out to veterans in crisis.
"The one thing I want everyone to reflect on is what our veterans have done for the country and what they are bringing home. Be compassionate, sensitive and aware that we lose 20 veterans a day to suicide. Keep them in your hearts, they need to know we're here for them," Moore said.
Ben Ortiz, a member of the National Guard Reserve and Project Leader on Delta's maintenance programs, arrived in Atlanta by piloting the 1963 model of the Boeing KC-135 Stratotanker, an aircraft for many of the fighter jets on the floor at the event.
"The airline's support for its active military members provides a peace of mind during deployment," said Ortiz. "This event means a lot to the veterans at Delta. It tells us the company respects our service, and they make sure we know they support us when we're called up. "It's a good feeling to know we have job security when we're serving."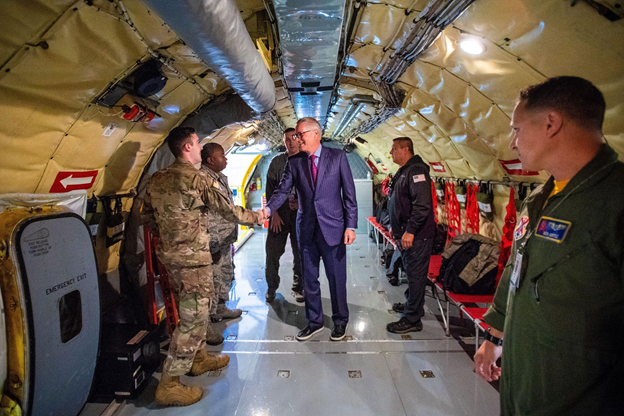 Delta's CEO Ed Bastain expressed his gratitude to the men and women of the armed services to TechOps employees.
"The Armed Forces community is such a huge part of Delta," said Bastain. "They're a remarkably important part of what we do. Our ability to continue to provide the support that's necessary to our veterans is important. We are a company that gives back and the most important group we can give back to those who served and sacrificed for our country to keep us safe."
Comments
comments