UWG theatre alumni of 2015 and double-leg amputee, Eric Graise, was recently casted in a dance television show, "Step Up: High Water", produced by actor Channing Tatum. The disabled actor and singer struggled to make a name for himself in the theatre business but is now a triple threat as he adds dancing using prosthetic legs and a wheelchair to his resume.
Graise is known for his leg-less feature zombie roles on "The Walking Dead" as 'Stump Leg Walker' and 'Fallen Tree Zombie' for attacking the stars on the show.Lionsgate and YouTube came together and created a spin-off television show of the dance movie: "Step Up".
Graise is casted as King, one of the main characters of the show as a biracial and disabled boy who is a singer, a dancer, a rapper and a DJ. Graise uses his prosthetics but primarily his wheelchair to perform hip-hop style dancing. The Atlanta based show is going to be released soon and is also starring Ne-Yo, Naya Rivera and Faizon Love. Beginning as an opera major at Shorter University in 2008, Graise transferred to UWG the next year as a business major also interested in marketing.
"The first thing I did when I got to West Georgia was start my own organization," said Graise. "The best part I loved about West Georgia was that they make it really easy for students to start organizations and to bring other students together. I started an organization called Black Tie Affair for students of color to perform musical theatre songs for shows that they typically would not be casted in."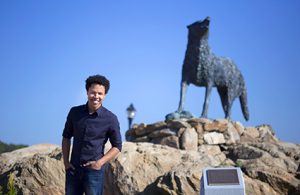 Graise continued to audition for roles in the West Georgia theatre department during his many years here. Even as a business major, he was still casted in plays during his time at UWG. After three years, Graise changed his major from business to art.
"I was convinced I couldn't make my whole career about theatre even though it was what I loved most to do," said Graise. "I was convinced a long time ago that I couldn't do it. As a double-leg amputee I would not be able to dance and play the characters that were so big and vibrant and lively in musicals because I thought I would not be able to move and portray that character correctly, so I went into the arts and became an art major."
After a year of not being satisfied with his major, Graise did what he had been longing to do all along: he changed his major to theatre. Three years later, he happily graduated from UWG.
"I am really thankful for all of the things I did at West Georgia and all the opportunities West Georgia gave me to do those things," said Graise. "The theatre department saw that I loved to be active in a lot of things, even with my disability, and they did not stop me from doing that. I appreciated that because once I left the school, I felt ready to do anything I wanted to do."
Comments
comments