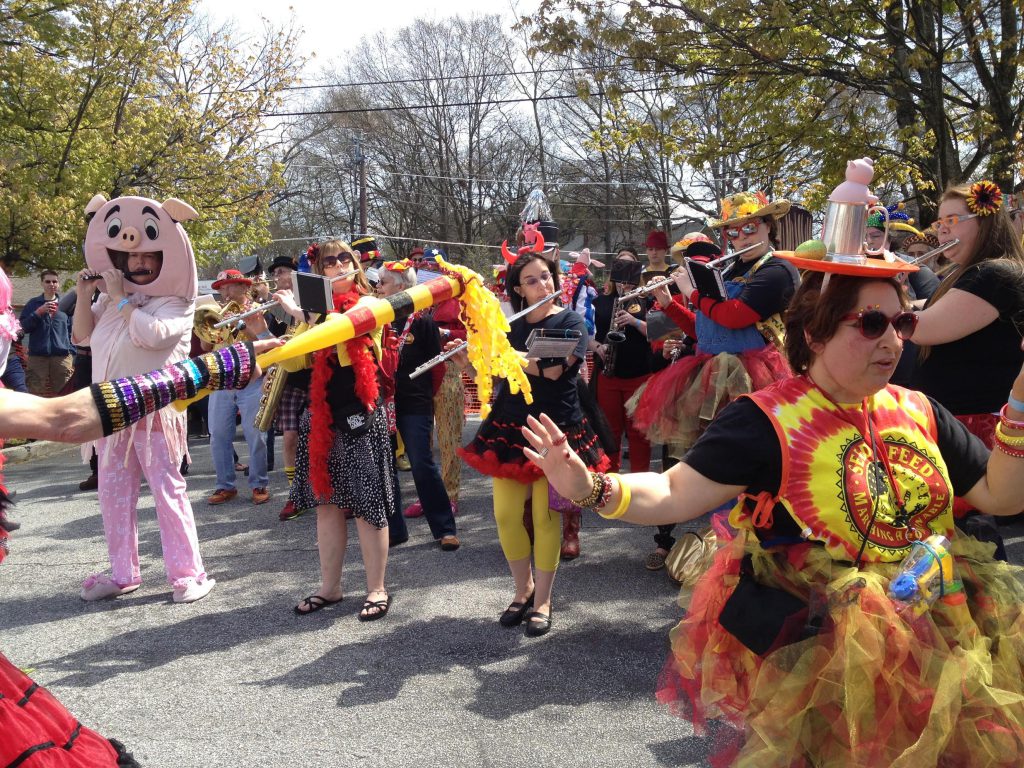 Have you ever wondered what 2,250 pounds of bacon looks like? Look no further because this year's BaconFest is filled to the brim with beer, bacon and bands. Atlanta's outrageously savory and oft-salacious annual event is set to return to Atlanta on Saturday, March 25. BaconFest 2017 will take place at Dad's Garage located at 596 Ezzard St. in Atlanta's Old 4th Ward from 1 p.m. – 6 p.m.
"The festival is in its 16th year and has developed a strong cult following," said Matthew Terrell, Dad's Garage Theatre Company communications director. "To help achieve that following we try our best to utilize most of our traditional channels such as social media and NPR to reach our people."
Guests can choose between Bottomless Bacon tickets and Whole Hog tickets. A Bottomless Bacon ticket is $45 and includes unlimited beer, bacon and games. A Whole Hog ticket is $85 and includes bottomless bacon benefits, access to the VIP room, a wider selection of beer and access to an actual whole hog. Those who purchase a Whole Hog ticket will also be given an April Loyalty Card that will get them access to free Dad's Garage shows for the month of April.
"We have different types of beer from year to year, some of it is even local," said Terrell. "The bacon is all one type, but we also have BLTs, roaster hog and cups of bacon to name a few options. Many of our food vendors have specialty bacon products available."
All festival attendees with a ticket will have the opportunity to participant in the BaconFest games. These games include some of the classics, such as flip cup tournaments and cornhole. Other games include joystick jenga and a wheelchair obstacle course. Celebrity Kevin Bacon also joined in the pork-fueled festivities back in 2012. More activities and information are set to be announced closer to the date of the event.
"Some of our wackiest carnival games are hobo wine tasting and sanitary smooch booth," said Terrell. "They are run by our improvers and you get to interact personally with the game makers."
Tickets can be purchased at the door though pricing is subject to increase. There is no parking available for this event, so guests are encouraged to take a safe-ride option. This festival is only open to those who are 21 years of age and older.
All proceeds benefit Dad's Garage Theatre Company, a nonprofit theatre group that inspires artists and audiences alike by producing innovative works that is locally, nationally and internationally recognized. The annual outdoor festival is a way for the local nonprofit company to secure funds for the upcoming year's performances and visiting comedy acts. More specifically, BaconFest brings in about 10 percent of Dad's Garage operating budget each year.
For more information, directions or to purchase tickets visit www.dadsgarage.com or call 404-523-3141.