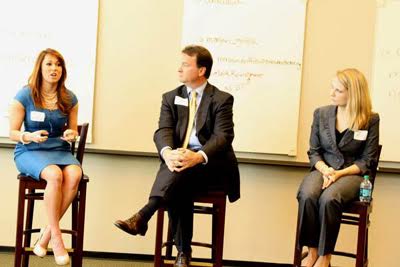 On Feb. 24, 2017 the Public Relations Student Society of America (PRSSA) at UWG will be attending the Real World PR 2017 annual collegiate conference.  The conference will be held at the Crowne Plaza Atlanta Perimeter at Ravinia beginning at 8:00 a.m. and ending at 3:45 p.m. At the conference, students will have the opportunity to meet public relations professionals and participate in a variety of events that will further their future careers.
UWG PRSSA is expected to have over 10 members attending the conference. They will have an an opportunity to meet over 100 public relations professionals who will provide a vast amount of insight about the PR industry.
"My expectations are for students to gain insight into the public relations industry by attending workshops to complement their classroom instruction, network with professionals from various corporations and PR agencies for internship opportunities, as well gain career advancing opportunities through a career expo and resume critique," said Dr. Hazel Cole, the co-advisor for PRSSA at UWG.
UWG PRSSA strives to give its members valuable resources that will only benefit their careers. They do this by assuring that the club partakes in the Real World PR Conference each year.
"My reasons for exposing students to collegiate conferences such as the Real World PR 2017 Conference is personal and professional. I seek opportunities to grow students professionally through exposure to companies and leaders in the communications industry," said Cole. "It is important to me to mentor young people to reach their potential. This conference is one way I seek opportunities to pass the torch to help young people step into their future."
PRSA-Georgia offers a grant to students who attend the Real World PR Conference. This provides students the financial support needed to experience a lifetime event.
"As PRSSA members, there are numerous scholarship opportunities through the national organization. At the local level, students are offered the opportunity to participate in professional events in Atlanta and the region," said Cole. "We have been successful in receiving the grant from PRSA-Georgia each time we've applied and are grateful for their continued support."
In the PR industry it is important to have an understanding of networking, interview etiquette, and a professional's perspective on the industry. The Real World PR Conference will provide students with all of the above along with access to material that will only come from the conference.
"The biggest takeaway is exposure to professionals and learning about their career trajectory based on skills, hard work, education, and professionalism," said Cole. "Students will meet communications professionals from major Atlanta businesses, corporations, and agencies who make time to share their experiences and offer insight on breaking into the PR industry."
UWG PRSSA is actively seeking students in the communications field who are interested in attending events to further their career such as the Real World PR Conference.
"My advice for students is to start early in their college careers by building professionalism and cultivating relationships, which leads to opportunities for career advancement.  UWG PRSSA is the perfect opportunity for any student to gain insight about the communications industry and about professional growth," Cole continued. "It is a professional organization that offers networking opportunities, exposure to professionals, workshops and conferences, and leadership opportunity.
Comments
comments