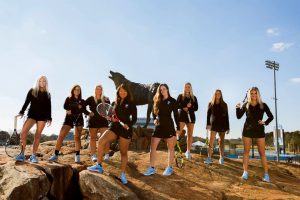 The UWG Tennis team is preparing for their 2017-2018 season in what they hope will be another stepping stone in the program's future.
Michael Coleman, UWG women's tennis head coach, is entering his sixth season with the team. His team is coming off a season in which the UWG women's tennis had a 6-2 record outside of the conference, but a disappointing 0-10 in Gulf South Conference play. The Wolves play in a powerhouse conference full of national championships and proud cultures.
"Our conference is extremely tough," said Coleman. "You've got teams in our conference that have won multiple national titles, and are just power house teams. They have been power house teams for a long time."
Coleman divides the conference up into thirds. The top third consists of the multiple national champion and powerhouse teams. The middle third are the highly competitive but not quite the powerhouses in the top third. Then there is the bottom third, teams that are competitive but struggle heavily against the others. The Wolves have fought but have yet to make it out of the bottom third of the conference.
"Since I have been here we have been in the bottom third. We have wavered in there. We've been a little better some years. We've been a little down some years," said Coleman.
Coleman has added two freshman players for this upcoming season, Brooke Kane and Bailey McCammon. Kane comes from Cumming, Ga where she graduated from West Forsyth High School. McCammon is from Buford, GA and graduated from Buford High School. Coleman is hoping that the addition of Kane and Bailey will provide depth to the squad and that the two will make a big impact on the court.
"Brooke is a much more aggressive player, hard hitter in your face kind of a girl. Bailey is a more steady, grind you down kind of player," said Coleman. "Because we've added those girls we have added more depth to our team."
Right now Coleman's goal is to move the UWG women's tennis into the highly competitive middle third of the conference and believes that the addition of Kane and McCammon will take the team closer to that goal.
"We're really looking to pick up more wins," said Coleman. "Now when we play one of those top tier teams we may not beat that top team but we expect to win a few more matches or for the matches to become a lot closer."
Coleman believes that the future of the program is looking bright as the school has began to put more of a focus on all athletics. UWG has provided more of an influx in scholarship money to help build the team further. He is hoping that this focus will help his team build a winning tradition and attract better players year after year.
Despite wanting his team to be a force on the court, Coleman wants his team to be even more of a force off the court. UWG women's tennis always has one of the highest average GPA scores through all of the athletic teams and always push their players over the line to graduate. Coleman believes that the players grades and overall happiness is far more important than their performance on the court.
"The term we use to refer to anybody in the NCAA is 'Student Athlete' and the word student comes first," said Coleman. "You need to graduate."
Coleman looks to teach his players lessons that extend beyond that of the tennis court as they prepare to go out into the real world. He believes that in doing so he can build the tradition that he wants within the UWG women's tennis team.
Comments
comments