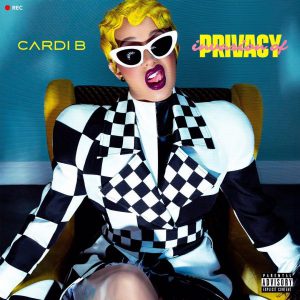 Cardi B released her highly anticipated album Invasion of Privacy on April 6. Cardi B has seen a meteoric rise of success in the past year, coming from being a social media comedian to becoming a household name. After releasing two extremely popular singles and appearing on multiple tracks, the rapper has finally released her debut project.
The Grammy-nominated rapper has attained a tremendous amount of success in the past year. Cardi B first gained recognition when she was a stripper and a popular social media influencer. She then went on to star on the show Love & Hip Hop and became a fan favorite. After her success there, she went on to release the extremely popular song "Bodak Yellow" which held the number one spot on the U.S. Billboard Hot 100 for three consecutive weeks. People flocked to Cardi B because of her entertaining lyrics and magnetic personality which led to her becoming known across the nation.
Invasion of Privacy is a reflection of Cardi B's personality. It is exciting, funny, cocky, and confident. The album also shows the versatility of the rapper. It ranges from pop-rap to songs that draw inspiration from Southern gangster music. In the album, Cardi is able to showcase her carefree and hilarious wordplay, while also remaining open and vulnerable. Cardi B pays homage to many rappers before her and also celebrates her Latin origins with songs like "I Like It." The album has multiple features ranging from rappers like the Migos, Chance the Rapper, and 21 Savage, and also singers like SZA and Kehlani. Out of the 13 songs on the album, there are multiple tracks that showcase Cardi B's signature sound.
The first track on the album, "Get Up 10" lets listeners know what they are to expect on the rest of the album. In the song, Cardi fearlessly raps about her rags to riches story, talking about how she went from being a poor stripper to becoming a millionaire. The song is motivational while also being a banger. The song sets the tone for the rest of the album and proves to people that believed that Cardi was going to be a one hit wonder that she is here to stay.
"I Like It" is a standout track on Invasion of Privacy. The song effortlessly blends Cardi's trap and Dominican roots. The song features an energetic Spanish horn section and an infectious trap beat. The track samples the song "I Like It Like That" by popular Latin singer Pete Rodriguez. "I Like It" invites Puerto Rican rapper Bad Bunny and Colombian reggaeton rapper J Balvin on the track. In the song, Cardi simply talks about what she likes and how she likes it.
The track that showcases Cardi's softer side and vulnerabilities is "Ring." The song features a vocal performance by singer Kehlani. In the song, Cardi and Kehlani discuss a breakup and how their significant other no longer calls them. In the song, the rapper discusses her relationship with her fiance Offset from the Migos. This song is different from the rest of the songs on the album because Cardi shows that she is vulnerable and human too.
Invasion of Privacy makes listeners wonder if this is truly Cardi B's first attempt at making an album. Cardi comes off as a seasoned rap veteran and proves to haters that Cardi's 15 minutes of fame is here to last.
Photo Creds: Apple Music
Comments
comments