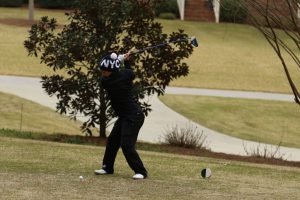 The UWG women's golf team was victorious once again as they hosted the UWG Women's Invitational on March 26 and 27 at Sunset Hills Country Club in Carrollton, GA. The team shot a total 926 for the three-round tournament and Junior Franziska Bremm captured the seventh individual title of her career by firing a final round two-under 70 to total a 5-over-par 221.
"We hadn't really been playing too well this season," said Bremm. "But we were able to put some good rounds together and come away with the win."
UWG has the luxury of practicing on more than one local course. Some tournaments are held at Sunset Hills Country Club while others take place at Oak Mountain Championship Golf Club.
"Sunset really sets up well for me," Bremm continued. "Our other home course, Oak Mountain, is longer and a little more tricky, so I was very happy this tournament was at Sunset."
The win was UWG's first victory of the spring season as they finished 13 shots ahead of runner-up Columbus State. UWG braved difficult playing conditions to post one of their best scores of the season and capture the title.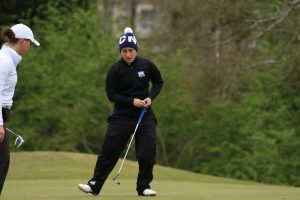 "It was very strange, the day before and after the tournament we had perfect weather, but it was much more cold and windy during the tournament," said Bremm.
The win was particularly special for the Lady Wolves as they captured the tournament victory without fielding a full squad. Normally in collegiate golf tournaments five players per team compete and the lowest score among the five players is dropped while the four best scores are tallied and totaled for each of the three rounds. West Georgia has only been fielding four players per tournament due to roster issues and did not have the luxury of dropping their lowest score.
"We all had to make sure we were on top of our game," said Bremm. "We knew that if anybody messed up we would be out of the tournament, so all of us had to play well."
Senior Maria Torres also medaled in the tournament, finishing in third place with a +10 score of 226.
The Lady Wolves look to build on their momentum when they travel to Pensacola, FL for the Lady Argonaut Invitational and cap off Coach Selders' first season as coach.
"We really enjoy playing for Coach Selders," said Bremm. "It's his first full year as coach, He has a great relationship with us and we really working with him."
Comments
comments