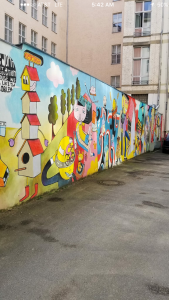 During spring break several students and professors from the Richards College of Business took their studies to Europe. These attendees strayed from the typical spring break festivities of beach parties in Florida for an opportunity to advance their knowledge of global business.
This adventure supplied them with an eye-opening business excursion through the Czech Republic and Germany, and allowed students to earn a total of six credit hours towards their degree in a matter of ten days. Though studying abroad might sound expensive at first, many students found financial assistance through scholarships.
"I only spent a little bit over 300 dollars during the trip, but I was scared to check my bank account when I came back to the states" said UWG senior, Austin Gordon. "The scholarships that I got were really helpful, because I received $750."
Along with Gordon, a total of 19 students from the College of Business decided to take the business trip to Europe. Both graduate and undergraduate students met on March 15 to depart from the United States.
Along with the students, numerous UWG professors attended the trip as well. David Boldt, Cheryl O'Meara Brown, Bruce Bird and Salil Talpade boarded their flight to London's Heathrow International airport. Once in London, UWG's business travelers flew to the city of Prague in the Czech Republic.
Attendees stayed in Prague for four days while participating in two business visits and soaking in the sights that the city had to offer. Students were encouraged by professors to dress professionally at these visits to present themselves in a respectable fashion while they gained a global knowledge at the International School of Prague. After their four days in Prague, the UWG representatives traveled by bus to Berlin, Germany.
Berlin offered the students a change of scenery, but their learning experience was much of the same. They stayed in Berlin for four days, and were required to attend business visits for two of those days. After their stay in Berlin, they flew back to London for a connecting flight to Atlanta.
Though jet lag may have taken its toll on Gordon and the others that attended the trip, these students were given the experience of a lifetime. They were able to explore their career focus on a global level while earning college credits.
"It was an experience that I will never forget, it really opened my mind to other forms of business," said Gordon.
Comments
comments