The bizarre yet brilliant artwork of UWG Senior Dyllon Pendrak turned heads in the second floor of the Humanities building as he displayed his Senior Capstone. "Forces of Faggotry" is a jaw dropping, though provoking display of colors, profanity and sound as the emotions of growing up as a gay male is the south are brought into perspective through artwork.
The gallery was lined with colorful artwork that touched viewer's imagination and thoughts that were shaped by Pendrak's upbringing. There were multiple artworks on display, ranging from paintings, to photography to video.
"My mother was more prevalent in my life than my father, and she really instilled that creativity in me," said Pendrak. "And from that, drawing became kind of an escape for me."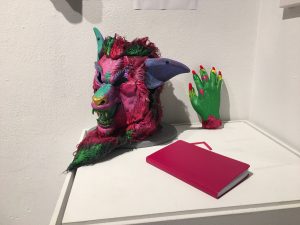 Growing up a gay child in Villa Rica, Georgia, he was faced with much adversity and hatred growing up because he was different. The 24-year-old was tormented and terrorized throughout his childhood and adolescence for being gay, but he was able to find something he could relate to in horror films that spurred the idea for "Forces of Faggotry."
"After so much torment I had learned to say 'fuck you' to my oppressors. And with this transition, I began to relate with antagonists from horror films and used them in my artwork to find empowerment," said Pendrak. I'm obsessed with many nooks and crannies of existence but none are more prevalent than my adoration for horror films."
Many pieces of artwork depict people from horror films and novels, such as the Stephen King novel "Carrie." The artwork seriously puts into perspective the trials and tribulations a homosexual goes through during their life and makes viewers think about what they hear, say or do always has an impact on someone. "I was equated to evil before I had finished middle school," said Pendrak.
Pendrak's artwork may seem unusual and outlandish, but when faced with outlandish hated for being slightly different he was able to channel his emotions and feelings to work. Pendrak's brilliance showed how so much hatred and bigotry can be turned into something beautiful.
Comments
comments