For the first time since 2008, the Georgia Bulldogs are college football's top ranked team.
After reaching as high as second in the weekly AP Top-25 Poll, Georgia debuted as the #1 team in the season's first College Football Playoff Poll. The poll, voted on by a committee tasked with selecting the four teams to play in the College Football Playoff, had Alabama, Notre Dame and Clemson to round out their initial top-four.
"What gave Georgia a very slight edge over Alabama this week in the eyes of the selection committee were really the two top-25 wins that Georgia has over Mississippi State, but specifically over No. 3 Notre Dame," said the committee chairman Kirby Hocutt, who is also Texas Tech's athletic director.
While Georgia being ranked #1 shocked many, few can say that the Bulldogs are undeserving of this ranking. Right from the beginning of the season Georgia has completely dominated nearly every team that has stood in their way outscoring their opponents by a combined score of 305-95. That is an average of 38 points scored and 11.8 points allowed per game.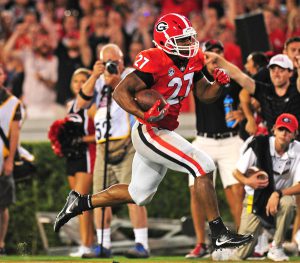 Georgia has been able to be so dominant thanks to a rather "old school" style of play. The Bulldogs' defense has been absolutely ferocious and more importantly disciplined; a formula that has created arguably the best defense in the entire country.
On the other side, Georgia's rushing attack has been absolutely unstoppable. With two seniors in Nick Chubb and Sony Michel creating the best backfield duo in college football along with two sophomores in Brian Herrien and Elijah Holyfield and a star freshman in D'Andre Swift the Bulldogs have unparalleled running back depth that has powered them to where they are now.
Despite the accolades and near perfect play, Georgia's head coach Kirby Smart ensured on an SEC teleconference that none of this is getting into the team's heads.
"It's really nothing more than a distraction, more than anything," said Smart. "Our kids acknowledge that and they understand that's the way of the world, that's the system that we live in. It's made to generate ratings, generate publicity for our sport. But our focus and attention is on South Carolina."
There are still three games left in the regular season for Georgia before a potential titan battle in the SEC Championship with Alabama. This includes a tough road matchup against Auburn on Nov. 11 and the annual "Clean, Old Fashioned Hate" rivalry matchup against Georgia Tech on the final day of the regular season.
Comments
comments