The Student Government Association at UWG is gearing up for an exciting semester full of events that they hope will benefit the student body.
The biggest goal of the SGA this year is to collaborate with other organizations to host successful events. They kicked off this effort by partnering with the organizations that hosted Blue Mocktails in August. This event allowed students to have open conversations with the community and campus police. SGA is hoping to be active on campus this fall with events like Homecoming as well as their annual Safety Night Walk and Late Night in the Library.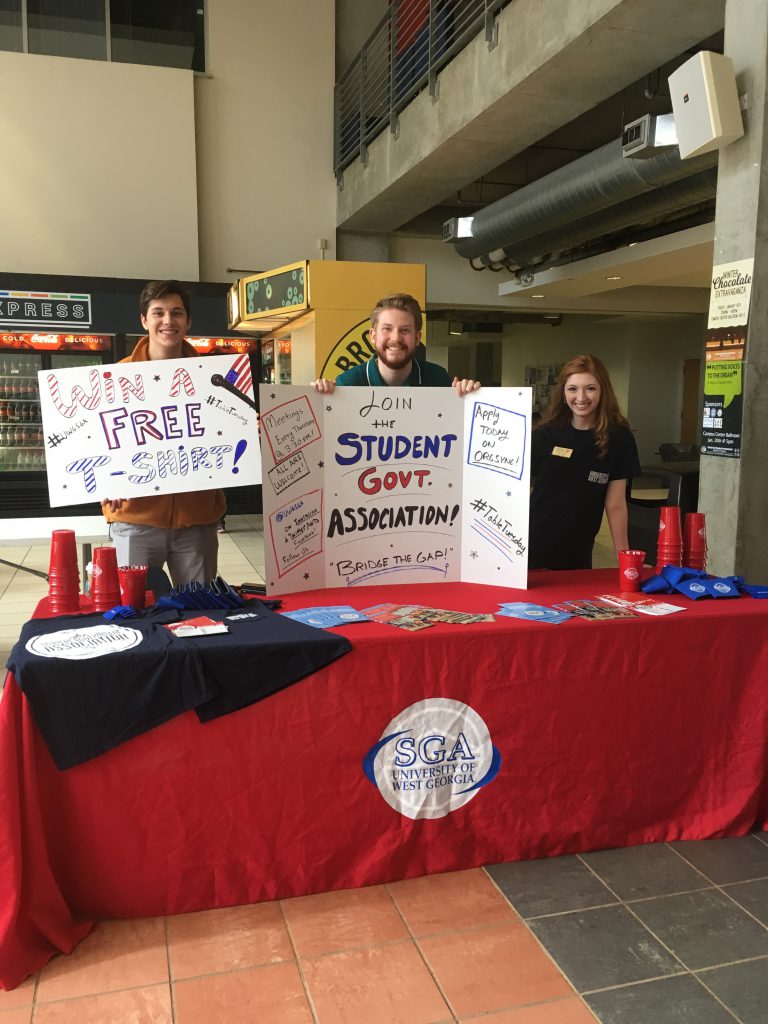 The members of SGA are looking forward to this October, where they will participate in events hosted by the Student Activities Council. Executive Vice President Jonny Denny and Parliamentarian Haley Parker are representing the organization as their king and queen nominations. SGA is hoping to be active during the week by getting involved in some of the other contests such as the banner painting competition.
"We're hoping that SGA being a part of homecoming is kind of like a sign to other organizations, who might not feel like they really fit into the category of homecoming, that it's open to all student organizations," said Joshua Lester, SGA President.
"I
think this is a step in making sure everyone is aware that any student organization can be involved and participate."
SGA will remain busy after homecoming ends by stationing a game table for Safe Treat and hosting their annual Safety Night Walk on Nov. 6. SGA hosts both of these events annually to promote safety on campus. Safe Treat is a community-wide event, while the Safety Night Walk focuses more on the UWG campus and students. The walk begins at sunset and allows students to examine areas on campus where they notice safety concerns.
"It's a great opportunity for students to get a good look at the safety aspects of campus," said Lester.
"For
one, we've seen in the past that there were safety recommendations made while conducting the walk that resulted in changes. It's a great opportunity for the students' voices to be heard on the issue of safety and how they can really play a part in making sure the overall student body is as safe as they can be."
In an effort to promote student success SGA hosts a semesterly event during finals week called Late Night in the Library. Students can participate on Dec. 10 by gathering exam supplies for their tests. There will also be snacks for students to eat while taking a break from their studying.
"Overall, the biggest goal of SGA this year is collaboration," said Lester.
"One
way I'd like to make that happen is by having an inner organizational icebreaker, so we can get multiple organizations together with a purpose of getting to know each other as people. I want to break that barrier of student organizations kind of being put in a box of their organization."
All students are invited to participate in the events hosted by SGA or attend their weekly meetings on Thursdays at 3:30 p.m. in the Campus Center. Students are also encouraged to reach out to the SGA president about event collaborations that will allow them to get to know people from other organizations.
Comments
comments