Atlanta Motor Speedway recently hosted the Imagine Music Festival which showcased some of the biggest names in the EDM industry including the likes of DeadMau5, Above & Beyond, Tiesto, Big Gigantic, Pretty Lights, STS9, and more. The festival took place from Sept. 22-24.
The Imagine Festival kicked off with a variety of circus acts off stage while the opening artists performed. These acts included aerial performances with people dressed as aquatic figurines swinging from rope to rope and motorcyclists balancing on tight ropes. Once people entered the arena, they could see each stage and the entire layout of the area; giving them the full effect of the festival.
"There's this one stage called the disco inferno that I found really interesting," said festival goer Breanne Thompson. "Random bursts of fire shot into the air from at least three different locations on the stage all throughout the show."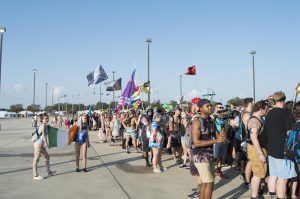 Those who arrived a day in advance could enter through the gates before the festival began and had first choice to claim their camp sites. Early access also included an invitation to the pre-party and late night silent disco, Shakedown Street with craft beer and food vendors, and various campground games and activities.
"There were people doing light shows and waving around finger glove lights," said Thompson. "Others were hula hooping and dancing around freely. You could tell most of these people had their share of experiences with music festivals."
The one detail of the festival that never changes is the theme: An Aquatic Fairytale.
"They had these giant statues that resemble jellyfish. Even the tentacles were life-like, swaying loosely among the crowd," said Thompson. "It was so realistic, like I was actually underwater."
The festival also provided SkyDeck VIP Experience passes for fans interested in receiving the most extraordinary Imagine experience. SkyDeck VIP passes offered top notch table service and the best view of the main stage with elevated viewing, private seating, premium wait staff, and private air conditioned restrooms instead of community restrooms.
This year Imagine also introduced its first festival fashion show. This new edition provided 30 fans with free weekend passes to the festival. These fans were hand-selected for using their own personal experiences from the festival and applying it to their day to day life. An additional benefit of entering the fashion show included each person a chance to be the celebrity for a day and show off the "best of the best" designer attire. These special fans were offered free food, drinks, hairstyling, makeup, and high resolution photos to make sure each participant had the experience of a lifetime.
The Imagine Music Festival introduces a creative, "artsy" place for those who enjoy bright lights, loud music, and live entertainment. People from all around the country attend this music festival every year and look forward to the new decorative layout of the event.
Comments
comments