The University of West Georgia's Richards College of Business (RCOB) celebrates two significant anniversaries this year; 50 years as a college and 20 years of honoring the name of Roy Richards Sr.
Fifty years ago saw the official creation of the school of business, then known as the Division of Business and Economic Studies. The school reconstructed and renamed its programs, and was officially named a college in 1996.
"In the College of Business, people come and stay because it has an extremely collegial atmosphere," said William C. Schaniel, a professor of economics that has been with UWG since 1980. "If you look at it, faculty come and very rarely leave, and that is a sign of the strength of any department or college."
Someone else who has stayed with the college is Dr. Faye McIntyre, the current dean of RCOB. McIntyre became the dean of the college in 2005. According to her, the students are the most important part of the college.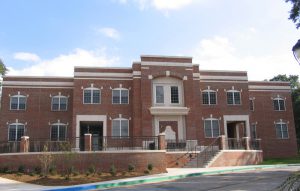 "We are excited to celebrate two milestones in the life of our college," said McIntyre. "As we have evolved and grown over the years, our primary focus remains the same; students are at the center of what we do and who we are."
A wolf through and through, McIntyre obtained her bachelors in Business Administration from UWG in 1982. She later returned and earned her MBA in 1984. These days, McIntyre works to ensure that RCOB stays true to its mission.
"The faculty and staff of the Richards College believe in and live our mission every day," said McIntyre. "We are in the business of transforming lives through education, engagement, and experiences.
Twenty years ago, the College of Business was officially renamed to the Richards College of Business. In 1997, Roy Richards, Jr. presented a $1.5 million gift to the university in the form of an endowment in honor of his late father Roy Richards, Sr., founder of Southwire Company, the largest cable manufacturer in the nation. Although the name of the college is changed, it remains dedicated to providing students with an education that is rich in experiences and engagement opportunities.
Through all these exciting changes, RCOB has developed into a vibrant college with five internal departments offering nine undergraduate degrees, three graduate degrees, seven certificate programs, and a host of extra-curricular opportunities.
RCOB will be hosting a celebration event this October, to commemorate their history and highlight all their achievements.
"This is such an excellent opportunity to highlight the accomplishments of our amazing alumni, faculty, staff, and students," said Amy Lavender, the Marketing Program Manager of RCOB. "So we plan on showcasing all of our various departments and centers as well as research conducted by both faculty and students."
The event will be held on Oct. 17 at 5:30 p.m. in the Campus Center Ballroom and is open to all alumni, faculty, staff, and friends of the college.
"We are also looking forward to welcoming our guests, reminiscing and showing them our vision for the future of RCOB," said Lavender.
Comments
comments