Tiffany Parsons and her organization, Impact West Georgia, constantly fights to help the homeless problem in Georgia. Impact West Georgia is a non-profit organization that aids the homeless and other underprivileged communities. Since the organization opened its doors in 2004, Impact West Georgia has helped transition numerous homeless people into homes. They have helped people ranging from the West Georgia area all the way to the Central Georgia area.
Parsons began teaching sociology at the University of West Georgia in 2009. During her years of teaching, Parsons has taught a variety of courses including American Class Systems, Housing and Homelessness, and Intro to Sociology. When she is not teaching at UWG she helps run Impact West Georgia. Impact West Georgia is a non-profit organization and its purpose is to improve the quality of life of the homeless, veterans, immigrants and children. Impact West Georgia does this with its three divisions: the Hope Center, Deserve, and the Adult & Community Education Center (ACE).
The Hope Center is a homeless shelter for men that provides a home-like environment and other necessities while it works toward returning the men to their own homes and independent living. Deserve provides transportation to the VA clinic for veterans. The third division, ACE, provides various educational opportunities such as English as a second language, writing, tutoring and job training skills.
When Impact West Georgia first began, it was a much smaller organization and only had a few members. "We were just teaching some classes and giving away food to the homeless. We were not a big organization," said Parsons.
Impact West Georgia started off only teaching a few classes such as English as a second language(ESL) in Carrollton. This attracted the attention of the city and they provided her with an apartment to teach the class. Along with this, Parsons and her church were donating supplies to the homeless.
"The city noticed that there was an overrepresentation of homeless men in the Carroll County area and they asked us if we could help out with that," said Parsons.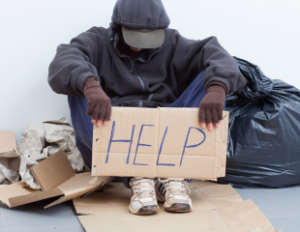 The Hope Center was the only homeless shelter for men within a ten-county radius. "We focus on homeless men because there is nothing for them. There are battered women shelters, there are foster homes for kids, but the men had nothing," said Parsons.
The Hope Center helps to transition homeless people to their own apartments or houses. The transition program was created by Parsons and it is the only known successful transition program for homeless people that live in the suburban area.
"On average it takes up to 90 days to transition someone out of the shelter. It depends on the economy and the amount of affordable housing," said Parsons.
Working with the homeless can be a difficult job, but the hardest thing about it is funding. "Everyone agrees that donating to the homeless is a good cause, but if they are choosing where to put their money, they are putting it in puppies and children. Not single men," said Parsons. "Even the government does not like to fund homeless men."
Though there are many hardships of working with the homeless, it ultimately pays off at the end. "The most rewarding part of running a shelter is when they get the keys to their new homes," said Parsons. "After all the hard work, heartbreak, and barriers that they've faced, seeing their reactions is simply the best," she continued.
Parsons and the people of Impact West Georgia have many plans for the future. "I see Hope expanding in such a way that we can have affordable housing that they can move in to," said Parsons. "We would charge them a small percent of their income, and once they pay for that house, we can build a new house for another person in need," she continued.
Parsons wants to debunk the harmful stereotypical image of the homeless person. No one is safe from being homeless and all homeless people do not fit a certain image. "One thing that I want people to know is I have a UWG student in my shelter right now. We think of homeless people to be in their fifties and they are maybe alcoholics. It's the person that could be sitting next to you in class," she said. "The myths and the stereotypes are not always true. You know them, you pass them, they serve you, and they are deserving and worthy of your help."